The humble barn house is reinvented in a modern template to create a luxurious and handsome contemporary country home in the Californian farmlands. Located near the city of Petaluma, this glass barn house brings the gifts of modern technology to the nostalgia and ambience of a traditional farm home. Architects  Turnbull Griffin Haesloop bring forth the spirit of a young farming family through traditional profiles, generous spaces, exquisite art and a wholesome approach to sustainability.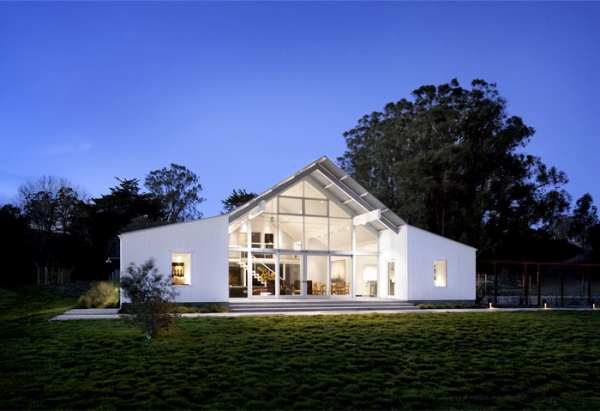 The exoskeleton of this contemporary country home adheres to familiar outlines and construction technologies. Rising up out of the farmland, the structure encloses a generous volume that is flooded with light and uninterrupted views by a full height glazing on its main façade. Washed in serene white, it sets stage to an exhibition of delightful art and furniture- each a story in its own making. These pieces of time and material are skilfully brought together in the main living area to create a social core that is not only visually remarkable but also immensely impressive.
The building uses geothermal systems for heating and cooling as well as solar and photovoltaic panels, adding some serious green credentials to this modern contemporary farm. Like a traditional farmhouse, this residence too lives in balance with its environment and is thus the proud winner of a LEED Platinum certificate.
An extension of the inherent sensibilities of those living in constant contact with nature, this beautiful contemporary country home is a remarkable synergy of style and sensitivity.