Designed by Windsor Smith, this perfect kitchen, sits in The House of Windsor. We say it's the perfect kitchen because the design is out of this world, it has functional and beautiful separate areas, it's eclectic, and the magnificent use of marble screams luxury. What else could we possibly need?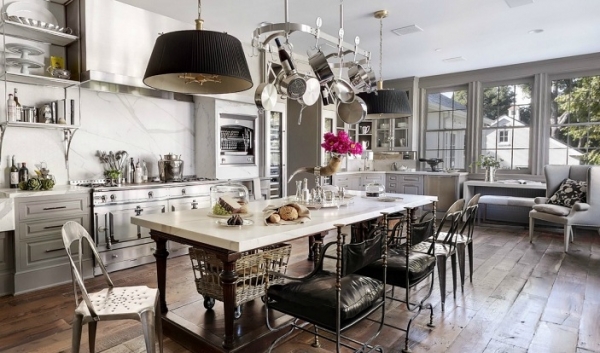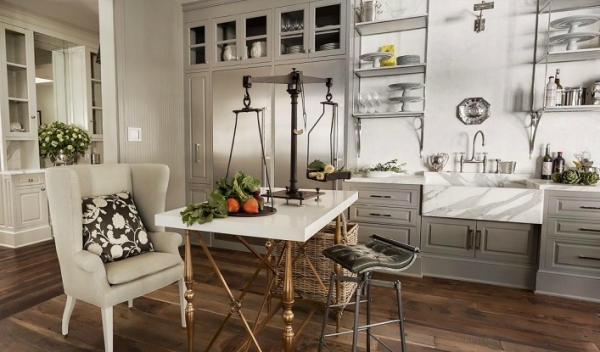 This little seating area is amazing. The hardwoods are gorgeous and we love the rectangular table with its fantastically detailed bronze legs. A plush chair with a black and cream floral accent pillow sits on one side of the table, and on the other side, a beautiful black stool. The vintage scale is a fabulous addition. This is the perfect space to sit and chop up your vegetables and fruits.

There is a separate space to do the dishes in this perfect kitchen. The gray cabinets are lovely and the fixtures are top notch. The shelving is phenomenal, it functions as storage and decoration, adding interest to the interior design. They have really thought of everything in this amazing room.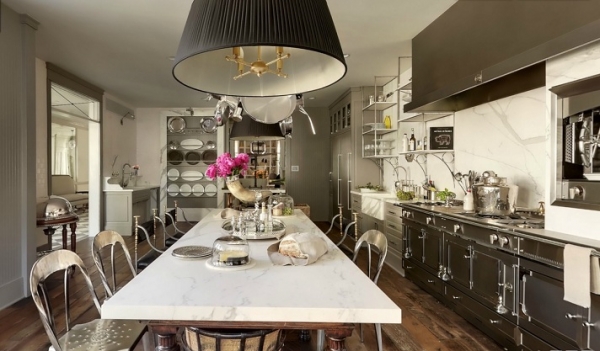 The dining table is long and inviting. The mismatched chairs add a bit of spontaneity to the space, and the black and gold ceiling lights are the perfect finishing touch in this perfect kitchen. The stove area is spacious and grand, it has a bit of an industrial look, taking the design to an entirely new level: perfect for the cooks in the house.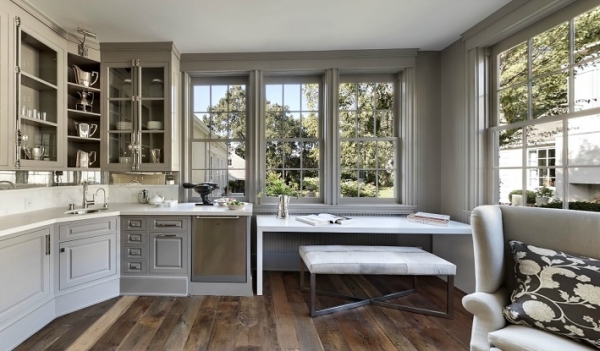 There's another wonderful seating area in this amazing kitchen. A sleek white table and a very large stool complete the space. The table's clean lines allow the gorgeous stool to take center stage. We love the large windows in this area, making sure that the room is bathed in natural light. This is the perfect homework space for the kids, while you're cooking dinner.
Gorgeous and functional.