You've seen pictures and TV footage of gorgeous kitchens that feature island units, so you might be tempted to install one in your space. It's true that these pieces add function, more workspace and sophistication to a room where your family no doubt spends a lot of time. However, not all kitchens are suitable for these additions. Before you take the plunge and make a regrettable decision, ask yourself: "Do you have space for a kitchen island?" If you're not quite sure what the answer is, Phil Watson from Select Kitchens will help you make up your mind with some valuable tips. Read the interview below: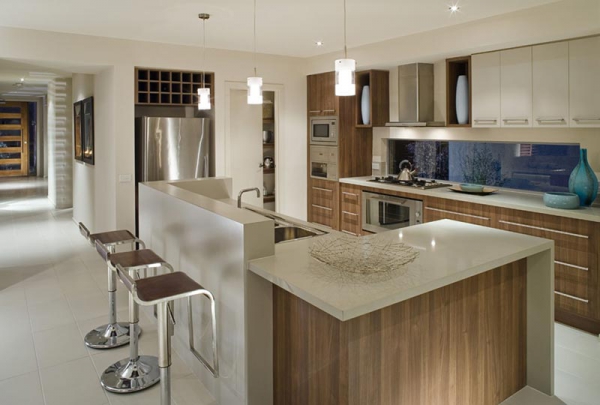 Are there certain space specifications for kitchen islands?
In short, yes, you need to take measurements to find out whether your kitchen makeover can accommodate a kitchen island. Especially when you'll be cooking and handling food prep, you'll need enough space to move around freely so you're not bumping into other cabinets. Plus, in a busy room like the kitchen, there are probably other bodies you'll need to manoeuvre around during meal times. Most experts will recommend that you allow at least 1 metre between the island and other permanent fixtures in the room.
What will be the kitchen island usage?
A key thing to consider when deciding if you have space for a kitchen island is how you'll be using it. Some homeowners will utilise it for basic food preparation, such as chopping, stirring and baking. As such, there might be a need for additional space when you have several people standing around contributing to the meal. You might also want to incorporate seating if you'll be using the kitchen island for dining, which means allowing even more space for chairs or stools.
Many homeowners like to have additional features installed when choosing their island space, such as a second sink or cook-top. These considerations should also be taken into account when determining whether there's enough room.
Will a portable kitchen island suffice?
If you have a small kitchen, but still want the convenience of an island, you may want to select a kitchen design that includes a portable unit on wheels. You can easily move it against a free wall or pantry when not in use to free up floor space in the room. It's just as easy to wheel it back into place when you need extra bench space for cooking or baking. Around the holidays or when you're having a dinner party, a portable kitchen island is ideal for serving a meal buffet style.
Does your kitchen provide proper flow for an island?
Flow is another important question to ask. When the room is a pass-through in order to get to the garage or other rooms in the house, you'll probably need to allow more space. Certain kitchens are also not suitable because of the shape, especially when the layout is L-shaped or U-shaped.
Are you planning on using your kitchen island for storage?
These pieces are excellent for storing extra dishes, linens and other kitchen necessities such as a Kimberly bin system. So think about these options when making your decision on an island. Cabinetry doors need to swing far enough open that you can access all the nooks and crannies, so measure carefully.
Can a low profile island serve your needs?
A kitchen island doesn't have to be a monstrous fixture in the room. Smaller versions work just as well and can fit in more snug spots. You can always use every extra inch of bench space, so even a surface that accommodates just a few dishes will make the island a wise investment. When opting for a low profile island, you can get creative on the material used for the surface. Chalkboard paint is a fun idea or a butcher block can turn the unit into a dual-purpose cutting board.
Do you have space for a peninsula instead?
When you don't have the space for a full kitchen island, a peninsula is another option. These units connect with your existing cabinetry and are tucked against a free wall, so they don't take up much room in the kitchen at all. You will need to make changes to the current benchtops in order to create a cohesive flow, or use the butcher block idea mentioned above.
Any major renovation to your food prep and dining area should start with one inquiry: do you have space for a kitchen island? The answer may surprise you, as many of these pieces fit perfectly within kitchens of all sizes so long as you have the right expectations. Take a look at your living space, grab a tape measure and see how you can make a transformation that's both gorgeous and useful.