Some people prefer a kitchen space that is clean and minimal in design, nothing too fluffy or over decorated. White kitchen designs can be the perfect blank slate for the simple chef or for the organized, clean homemaker. Italian-based company, Elmar, has perfected the minimalist kitchens with its designs that employ the use of clean lines and useful, creative features to save space and create functioning working areas. These countertop units are perfect for spaces that may be lacking in square footage like a city condo or cramped studio apartment.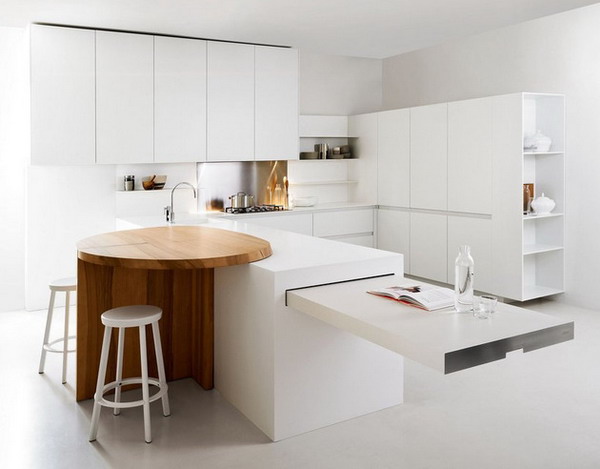 The great thing about Elmar's designs is the fact that there is way more than what meets the eye. The extra countertop space that can be pulled out and pushed in when it is not needed is ideal to save space in a kitchen with minimal detail. This leaves room for more movement in the small space. The ideal minimalist kitchens provide ample storage to hide away most things from sight and ensure an open, clear space. Not only does the design allow for plenty of storage space, but the shelf features provide a sort of display for accessories.
Minimalist kitchens, like the one in the pictures, are usually preferred for their contemporary look. White countertops, floors and walls are complemented by stainless steel touches. The wood also brings some color and life into the white space making it a focal point of the kitchen. Wood tables like this are not generally seen in modern or entirely white kitchens, but it works for this space because it is a light wood with crisp, round edges. The only drawback to the space could be the cleaning it takes to keep the room looking white and shiny!