A little different, and very unique, this oak kitchen, is positively stunning. We've seen quite a few kitchens that incorporate living room design, but this one is in the running for our favorite. The sleekness, the lines, and the modern decor, fashion an oak kitchen that is airy, polished, and bright, and as we all know, those are some of our favorite things.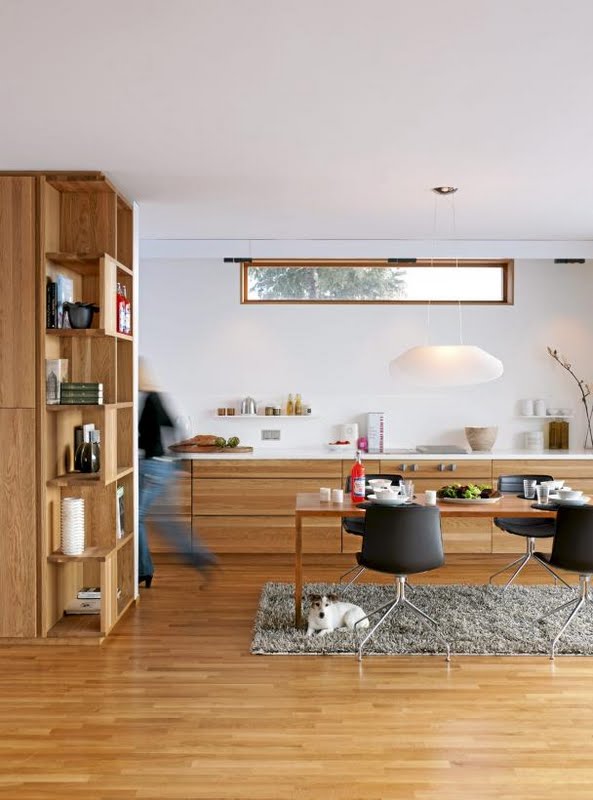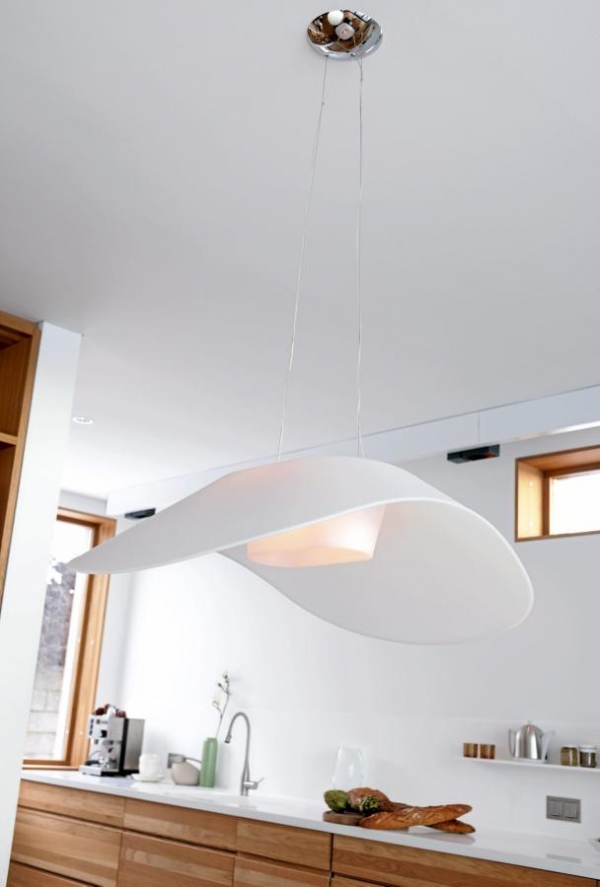 The white modern light is absolutely gorgeous. It adds wonderful interest through its curvy and creative design.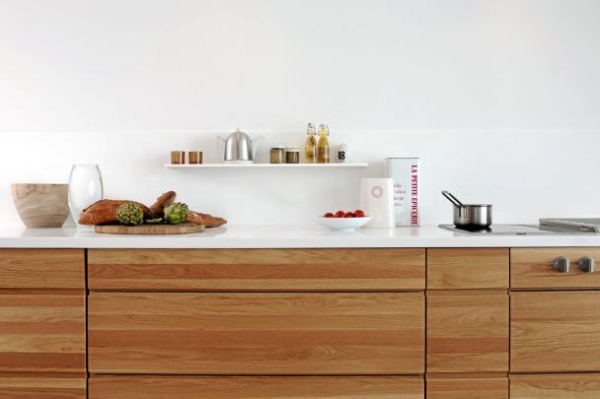 We adore the oak drawers. If you look closely, you can see that even the front of the stove is oak, providing a wonderful continuity. The oak is simultaneously modern and homey.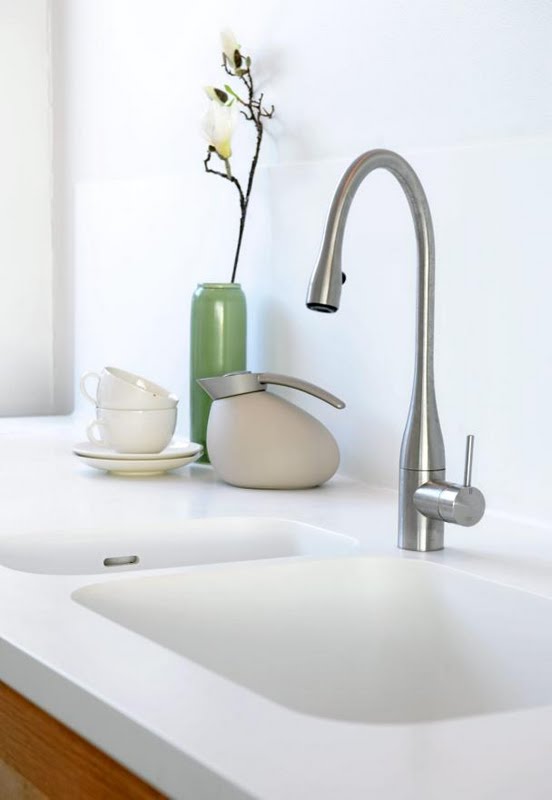 The white Corian countertops and sink, are absolutely gorgeous. The white effectively brightens the space, and the stainless steel faucet is fantastically sleek. The accents on the side of the sink are delightful. The green vase adds lovely color, and the coffee pot and dishes are wonderfully suited for the modern design.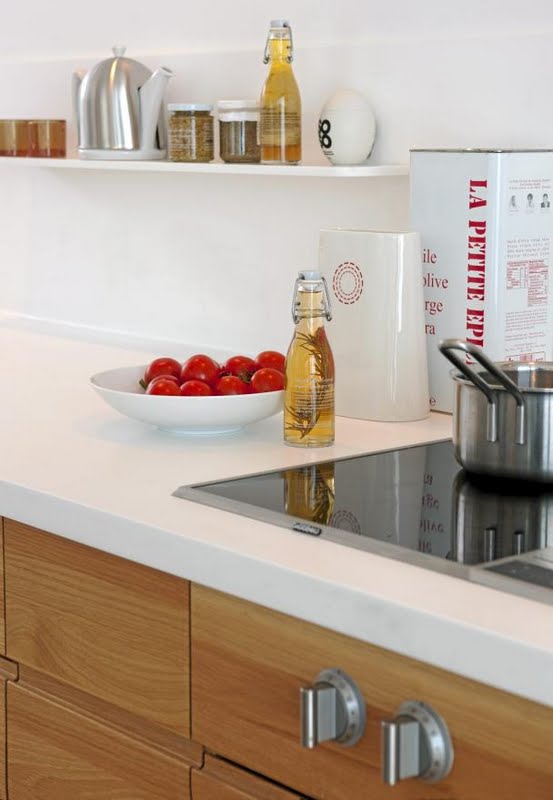 We love the simple white shelf. It blends in with the wall, keeping the design minimal and modern.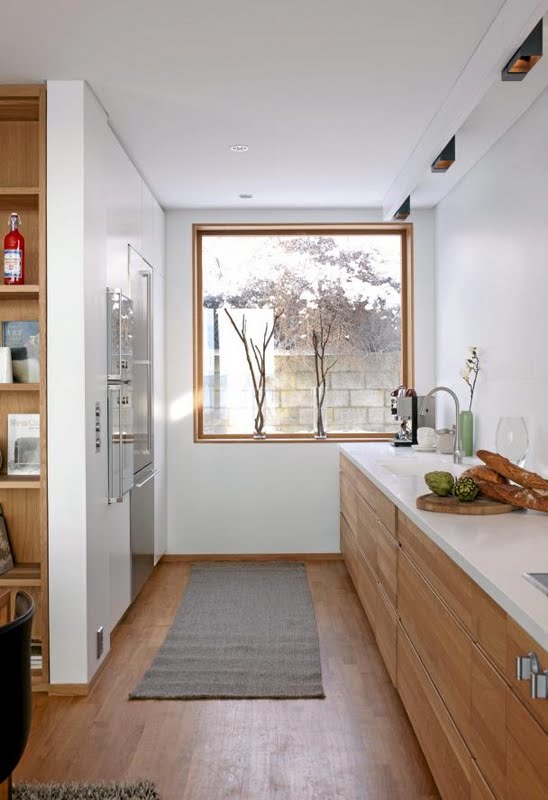 At the end of the oak kitchen there is a beautiful large square window, allowing for an abundance of natural light. The trim around the window beautifully matches the oak in the kitchen. A gray runner adds more variety to the color scheme.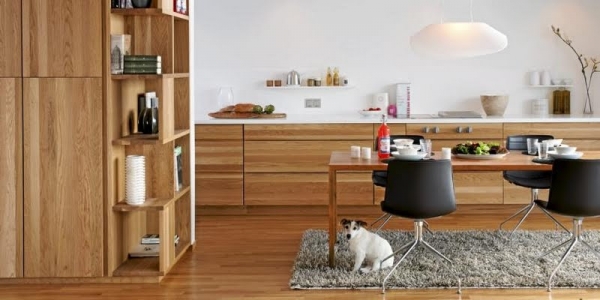 Images found here
We adore the oak cabinets and bookcase-like shelving in this oak kitchen. It is full of books and dishes, continuing the blending of living room and kitchen décor. A gray shag rug sits under the beautiful wooden table, adding wonderful coziness to the room. Lovely black chairs, provide fantastic contrast to the white in the room, and effectively anchor the design.
The way this kitchen incorporates living room décor into its design is fantastic. It beautifully adds a little more home and a bit of uniqueness to the modern kitchen.