Jumping straight out of your favorite childhood fairy-tale into the heart of your home, these striking designs help you welcome your baby into the world in sumptuous style. Beautifully blending classical elements and motifs with contemporary interiors, these luxury nursery designs from Italian brand Halley draw on the best of tradition and modernity, creating new expressions of innocence, identity and play. Refined and restrained in color and detail, the designs allow an overlay of different furnishings, textures and profiles to lend it a unique and an absolutely charming flavor.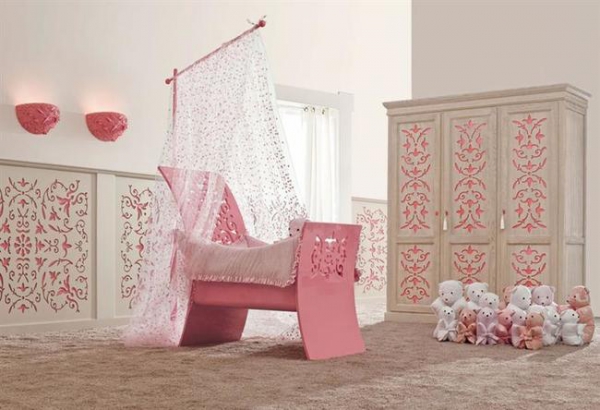 The Bebè Room floats in a sea of pastels, accentuated by intricate motifs and silent lines that find varied expression across the décor. From wallpaper to carpet, every surface is explored for the gentle touches it brings to the design, enhancing it without creating visual clutter. The color palette is gentle in tone and can be customized to the project at hand; choose from a spectrum of pinks, corals, champagnes, lilacs and blues to arrive at your perfect composition.
The Luxury Bebè Room takes these luxury nursery designs to a different level with its bold approach and sheer opulence. The magic and splendor of The Arabian Nights meets European sensibilities in this scheme that contrasts and co-ordinates gold and white, creating an enchanted home for your little prince/princess.