These are not your typical boys bedroom ideas. They have the themes of sports, travel, aviation, and animals, but they are done in a unique and gorgeous way by Baby & Child Restoration Hardware. They are done with a light hand and a vintage touch, creating stylish and stunning boys bedroom ideas.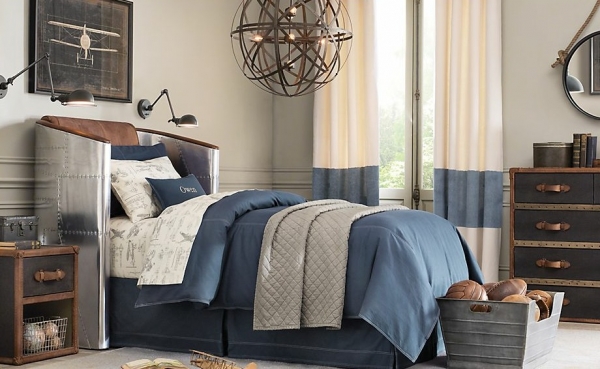 This aviation themed bedroom has an absolutely fantastic bed, framed by a gorgeously detailed ceiling light. Cream curtains, with blue accents, maintain the brightness of the space.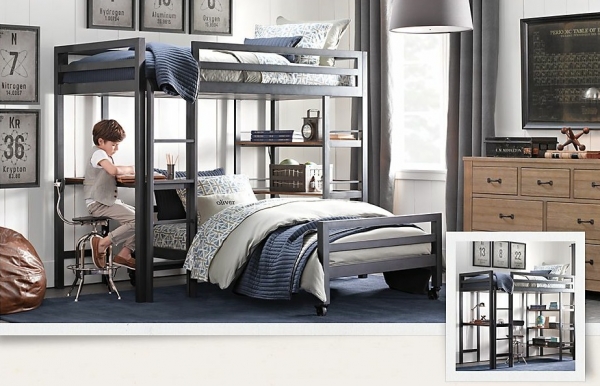 The periodic table fills this wonderful bedroom. We love the way these bunk beds are situated, adding a little flair to the traditional arrangement.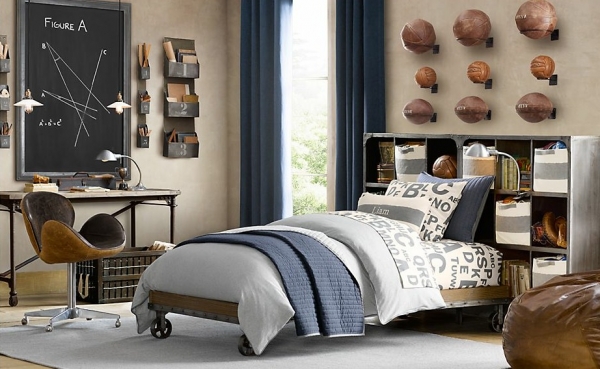 We love boys bedroom ideas with a little bit of creativity. The arrangement of the basketballs and footballs in this room creates a significant amount of interest.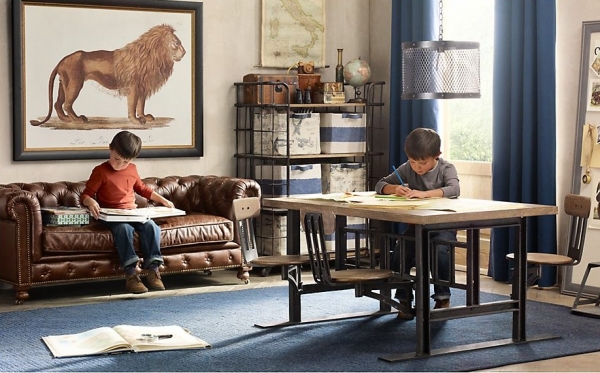 The brown leather tufted sofa and the large lion artwork are absolutely perfect.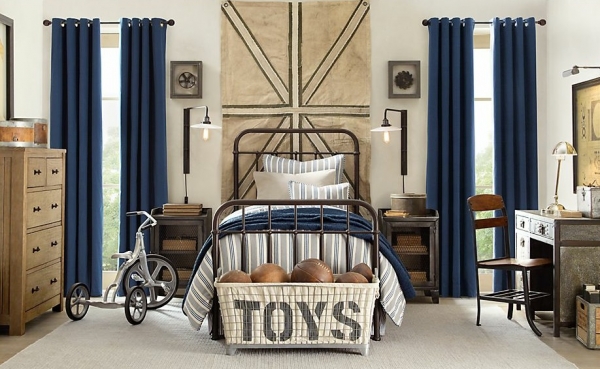 The tapestry that frames this bed creates a wonderful focal point.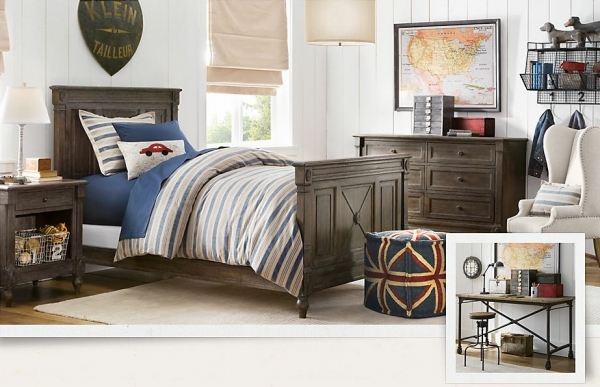 White wood paneling keeps this room bright, while dark furniture provides a wonderful contrast. The cream chair is absolutely gorgeous.
A collection of plane renderings and vintage accents add spunk to this lovely space.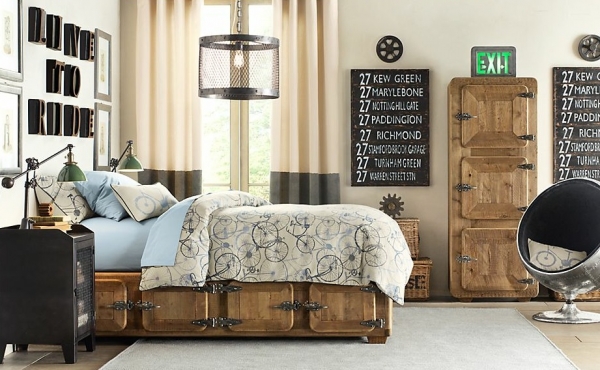 The matching bed and door are absolutely stunning in this wonderful room. The silver chair is a fantastic design touch.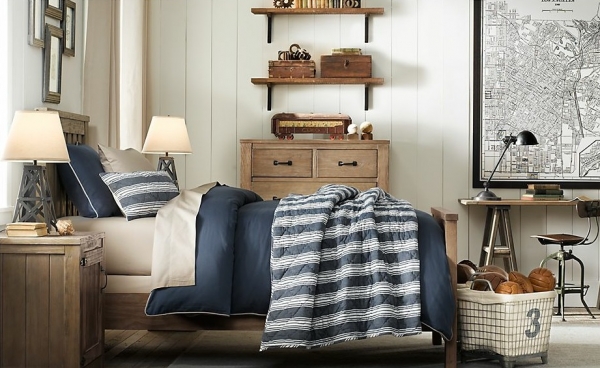 Natural wood, off-white paneling, and a framed map, make up this comfy space.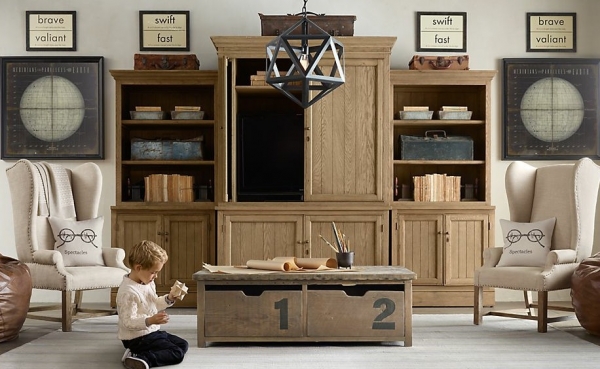 This picturesque room is formed with a gorgeous armoire, two elegant chairs, and a sublime coffee table. We love the artwork that frames the armoire in the room.
Coastal and animal accents are placed throughout this bright space. The blue and white striped rug anchors and adds interest to the room.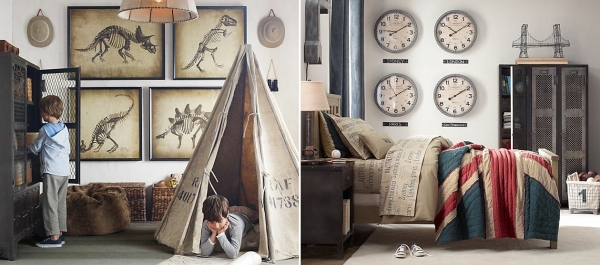 These two fantastic boys bedroom ideas are creatively fun. In one space, there is a teepee and vintage pictures of dinosaur skeletons. In another space, world clocks and a British flag creates a wonderful room for the future traveler in your family.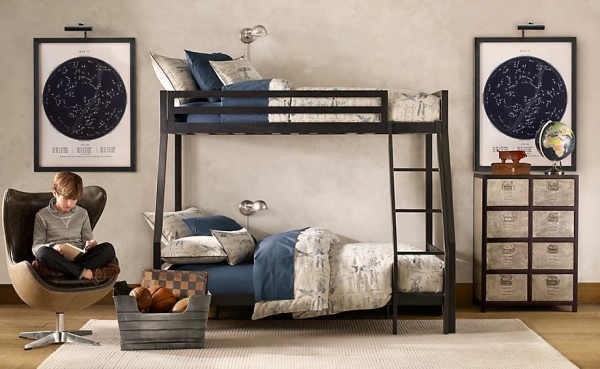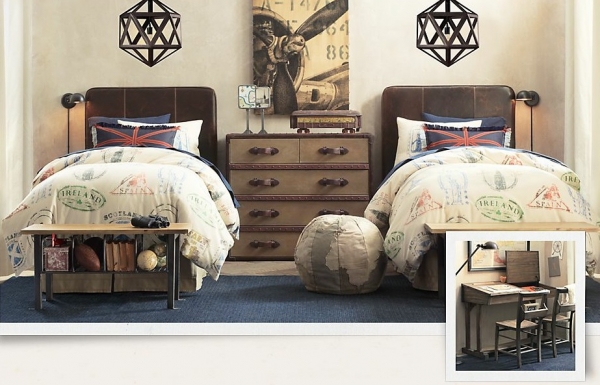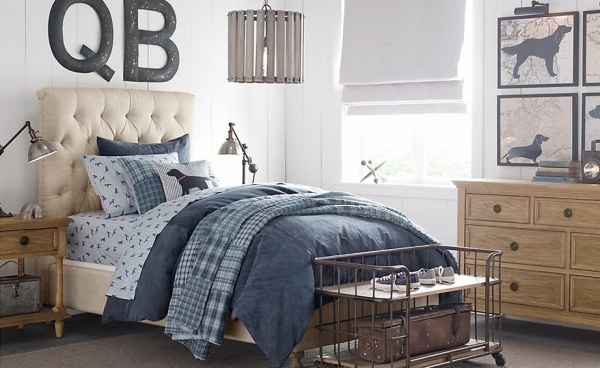 We love the antique feel of these rooms. The muted blues, browns, and creams look absolutely fantastic together. The furniture in each room is stylish, timeless, and handsome, creating a cozy and fun place, with personality and panache, for the future men in your family.