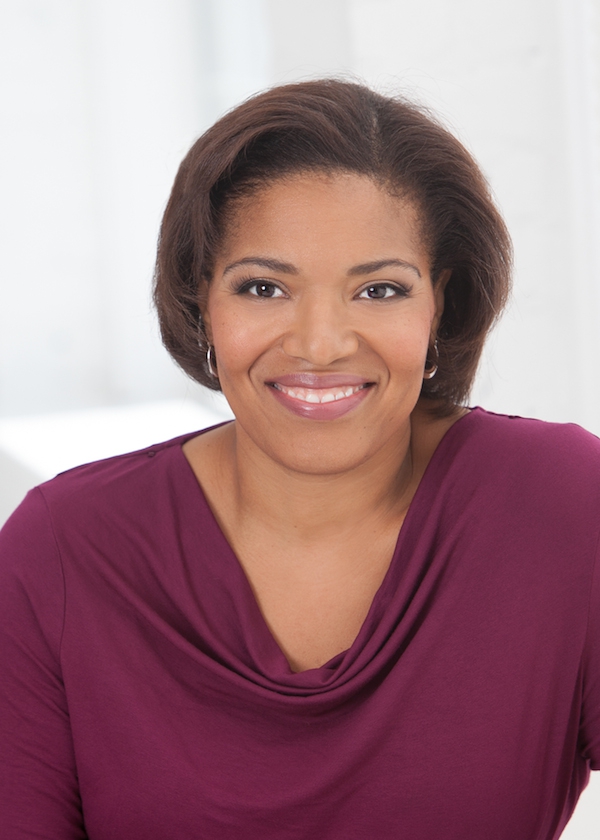 Ronique Gibson is a blogging star! On her personal blog Stagetecture she offers home life solutions that will surely make your home your favorite place in the world. Ronique is creative, diligent, organized, very positive, incredibly charming and luckily one of Adorable Home's contributors! Find out more about her:
Q: Perhaps everyone who's interested in interior design and blogging already knows you, but for those who don't we'll say that you're one of the most prominent bloggers internationally, maintain a personal blog and write for many others, you're also a book writer and a radio show host, provide tiered services, social media and e-consultations, take part in blog tours, and you're a mother of three. So the obvious question here would be – is this even possible for a single person to handle?
A: Thanks Lynn for taking the time to invite me for an interview. Stagetecture was once just an idea in my head in 2009 to help homeowners with staging their homes for sale. Since I started the blog during the housing crash it was an opportune for me to make a name for myself and to start sharing my thoughts on the side of my day job- architecture. For a year and a half it was just I doing everything! From writing, to posting, to social media, to marketing, handling email correspondence, writing for others. I literally wore 20 hats a day and it helped me understand what entities of the business world I needed help with.
So to answer your question, by time I got to 2011 I understood where I needed help. So I started hiring a few writers, started getting outsource help with social media, and starting asking the interior/architecture community for resources. I also started working on my social media strategy and realized I needed to provide more value to readers than just pretty pictures. Between guest bloggers, writing for other well-known interior blogs and publications, and attending blogger events… this is how I've evolved into current Ronique!
Q: What does your typical day look like?
A: Eek, how much time do you really have? I'll be honest, I'm a morning person, and so I wake up at 4:00am every morning. I'm able to get more done between 4:00-7:00am than any other time of the day. My kids wake up around 6:30, so it's a great chance to answer emails, work on my clients' writing jobs, and catch up on social media. By 6:00am I'm checking on clients' blogs, posting on social media and looking over writing that my writers have done, editing, finding pictures and scheduling for the day. By 8:00am I get my daughter ready for school, make some green juice, and take her to school. My husband also helps me tremendously with family, meals, etc… so we are a team! After my teenage son gets off to high school, I get in more writing, answer emails, and I'm off to the gym for step or kickboxing class at 10:00am. After lunch, I try to grace social media 3-4 times per day after each blog post on Stagetecture. I try and play with my cat 'Snow' for 10 minutes, he he… and by 2:30 it's off to get my daughter. Each afternoon by 3:00 I help her with homework, talk out the day with my son, and try to connect with my college son.  Many days I have blogger campaigns, special features I pair up with brands, or advertising/contact inquiries that take up a lot of time. So based on my workload I fit these in where I can. Behind the scenes – I have a few freelancers that help with administration work and light social media. By 9:00pm my head hits the pillow faster than my daughters, and the next day I do it all again!
Q: We know you graduated with a Bachelors of Architecture. What type of architecture are you personally drawn to? 
A: I did from Tuskegee University in Tuskegee, Alabama. You know I don't have one type of architecture that speaks to me, but I can most relate to architecture that is comfortable and beautiful. Growing up in Colorado, Arizona, and Chicago, Illinois I was drawn to ranch style homes, southwestern and natural finishes, and loved every Frank Lloyd Wright building ever made. I love architecture that keeps the natural environment in mind when creating. In our Boulder, Colorado home, my parents had a wood deck in which 2 trees were preserved and extended through 2 holes in the deck. I always thought this was a wonderful addition by the architect, even at a young age.
Q: Who/What inspires you?
A: I'm inspired by anyone who has a passion. My favorite past times are looking at other bloggers in photography, food, weddings, fashion and anything design. I love to see people pour their hearts into anything and not care how much blood, sweat and tears it takes to reach a result they are proud of. I see this daily on the net, and it inspires me to push harder.
Q: How did you get to where you are now with your career? To what do you attribute your phenomenal success?
A: If you ask an athlete, an entertainer, a movie star how they achieved their success, most of them usually have so much more they want to accomplish and view the world different than their fans. To me, I'm always learning. For every person that says congratulations on XXX, I usually am thinking of 10 ways I could have made it better. My husband, my family, my friends, my faithful Stagetecture readers, and the presence of my loved ones that are no longer here (my father and sister) ignite a drive in me daily. My success I suppose is due to my diligence. I try to come back stronger each day, pickup after every fail, and try to make my hard work come through in every thing I touch.
Q: What do you love most about what you do?
A: Connecting with the world. Who would of thought something I love could be a connection to the world. Everyone wants a cozy and safe place to retreat to daily in his or her homes. I'm fortunate to take my passion and share it with the world every day! What other profession do you potentially reach every part of the world with just your few inspiring posts it's almost magical. 🙂
Q: What dream do you still want to fulfill?
A: I love to travel. Over the last few years I've had some wonderful opportunities to travel on blogger media trips that let's me meet other design bloggers and home brands and it's been a real treat. I hope to do more international traveling as I have friends now all over the world! In the Spring 2014 I'm traveling to Spain with Tile of Spain and I told myself this would mark the beginning of my traveling dream. I ultimately want to take my family with me to experience different cultures, and gain inspiration of international traveling with them as well.
Q: You have a section on your blog dedicated to food recipes. For dessert, would you share your favorite recipe with our readers?
A: You know when I started Stagetecture it was only about home design, organization, and staging. In 2011 when I really started getting into Pinterest I would spend hours looking at the beautifully styled food pictures. So I decided, why not try a few food recipes? To this day food recipes have become more trafficked than any other category! So my favorite dessert recipe has to be Cinnamon Pecan Rolls. While they could be dessert or brunch, they make the house smell delicious and no one can eat just one!
Thanks Ronique, you are the best!
You can find Ronique's home decor ebook here.