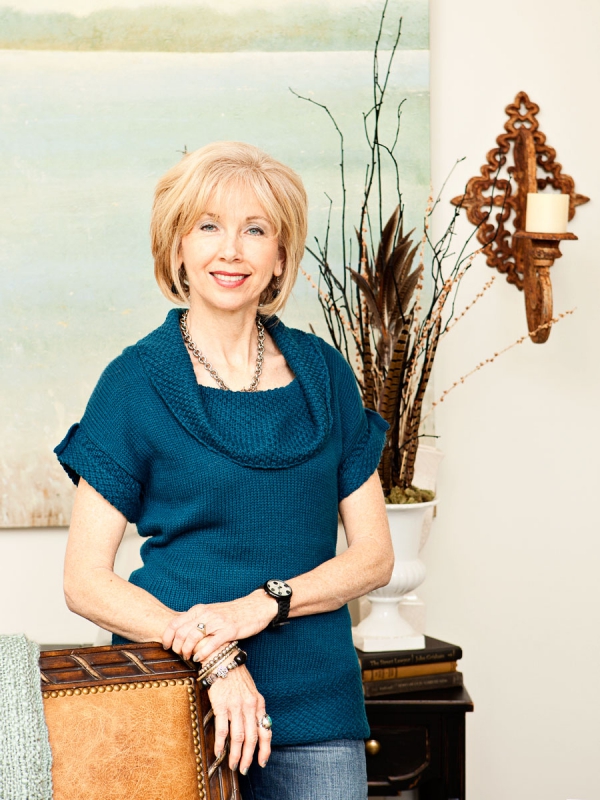 Rhoda is the gorgeous woman behind Southern Hospitality blog. Her passion for home décor and DIY projects brought her on an incredible journey and opened a brand new chapter in her life. On her blog, Rhoda shares home decorating and gardening advices, blogging tips, and her personal story that serves as inspiration for many women out there. Here is what she has to say:
Q: Your story is so inspiring and it gives faith to many of us that dreams do come true! Have you ever thought you'd come this far?
A: When I started blogging as a hobby in early 2007, I had NO idea that things would progress to where they are now, with brands working with bloggers and bloggers being able to make a fulltime living doing what we love to do.  So, No, I never thought this would happen.  It's been a huge blessing to me.
Q: To what do you attribute your phenomenal success?
A: Without a doubt, starting when I did was probably the reason for a lot of my success. I got myself established early on and developed a really good core group of readers who supported me the whole way.  I have worked hard to write a good and interesting blog, so that's part of it too and God's blessing on my life is definitely a huge factor too.  His timing was perfect in all of this as well.
Q: What's the proudest moment of your blogger career?
A: Without a doubt, getting to visit the Pioneer Woman's ranch in 2010 was a huge blog highlight for me. I went there on a BlogHer ad campaign and worked with Ree and other bloggers. Getting to meet Ree in person and spend the night in her lodge was so surreal. She was one of my first blogging heroes and still is to this day. And she's a very warm and friendly person too.
Q: What makes your blog different from the other home décor/DIY websites?
A: I'm not sure that my blog is really different from the multitudes of other home décor/DIY blogs.  We all share our passion and some are more handy with power tools and some are better at decorating.  It's a nice mixture and this niche group has grown by leaps and bounds the last 3 to 4 years.  It's exploded with talent.  But, I think I have my core readers and many of them are my age or older and they appreciate an older woman that they can relate to, who has been through things they have.  And I think many of them are traditional decorators which is the base of how I decorate too.
Q: Who/What inspires you?
A: All sorts of things inspire me. It used to be magazines that I couldn't wait to open and browse.  Now magazines are featuring bloggers so much and bloggers are setting trends and making things happen, so certainly many of my peers inspire me too.  I try not to go crazy with changing things out all the time, but it's hard not to get excited about new things that I see.
Q: What you wish you knew when you started your blog?
A: I wish I had known more technical stuff about running a blog. Everything I've learned has been the hard way, just plugging along one day at a time.  I still don't know how to fix things when my blog is broken, so I rely on technical help and blog design help for all of that.  But, I'm happy to have talented people I can rely on when I need them.
Q: Let's talk about your personal interests. What are your three favorite blogs to read?
A: Oh, wow, that's a hard one, because I have so many friends who write great blogs and I am partial to all of them.  So, I really don't want to name just 3.
Q: What is your favorite interior design style?
A: I've always been a traditional décor person and that style was more stuffy traditional a few years ago, when that look was in.  But, now that things have loosened up so much, it's become common to mix styles and now I'm definitely an eclectic mix of styles. I still have some very beautiful dark wood antique pieces that I doubt I'll ever get rid of. But, I love to mix up my fabrics with modern ones and rugs as well.  I don't ever want to be stuffy with my décor and enjoy color and mixing things up.  I love vintage accessories and collecting things over time too. Classic, casual, eclectic is how I'd describe my style.
Q: What does your typical day look like?
A: I don't get out of bed til 8 a.m. most mornings.  I have breakfast, do a devotional, get on the computer for a couple of hours.  Hit the gym late morning and come home for lunch.  Many days I'm out and about, seeing my parents for lunch or doing some shopping.  I love to get out and see what is going on in décor shops or interesting things happening in Atlanta, like visiting a showhouse.  I do spend a lot of time on the computer running my blog, but I'm able to pull away and go and do things when I want and that's a wonderful thing.
Q: What dream do you still want to fulfill?
A: I would like to find love again, so we will see if that is going to happen for me.  I leave that up to the Lord and what He has in store for me.  For now, I'm very happy and content with my life and love it.  I hope to keep doing what I'm doing for many more years.  And I'd love to travel more, I love to go and see new places.
Q: What's the best advice you can give to someone following your career path?
A: Be yourself and don't try to copy anyone else.  I truly think that is the best formula for success along with following some good blog design and letting your personality come through. I think readers like to see the real person behind the blog and they come to feel that they know us, so it's important to just be real.  I've done that with my blog and my readers have been so supportive to me over the years.  No one has a perfect life and people want to see that you are just like they are.  It takes a lot of work to run a successful blog, but it's so worth it too.  I absolutely have a dream job and couldn't be more thankful for it.  I do think it's harder than ever now to grow a blog really big. I've seen it happen to new bloggers in the last couple of years, but it really takes a special personality to do that.  They have to have something that makes them rise above all the other blogs out there and that's not something you can put your finger on.  They either have it or they don't.  And networking in blogging now is very important. You can't blog in isolation, you have to make friends with other bloggers and that's how we all help each other to succeed.
Thank you Rhoda, you are a star!
Here are a few of Rhoda's projects that we love: