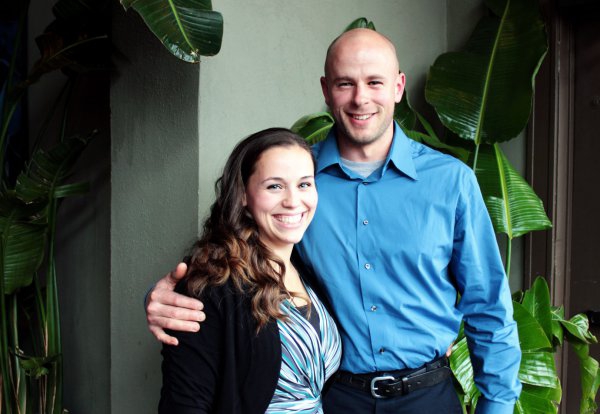 Meet Amanda and Ben, a sweet couple, skillful DIYers and the people behind Our Humble Adobe. On the blog they share their own amazing home projects which serve as inspiration to many. Learn more about how their beautiful fairytale began:
Q: Did the passion for DIY-ing brought you together at first place or you developed those skills as a couple?
A: Ben and I both grew up working on projects.  He helped his dad build things.  I crafted from a very young age.  My mom taught me to crochet when I was about 6 years old.  So, I'd say we had a mutual love for DIY and we've been able to play off each other's skills.
Q: How did you get started with blogging?
A: Most of our families live out of state, so I started blogging to share our projects and updates.
Q: Do you think about blogging like business or a hobby?
A: Blogging has always been a hobby for me.  Occasionally, a partnership will come up that is too fun to turn down, but more often than not, our blog is a hobby.  Although, it does require a lot of work, so sometimes it feels like a business.  🙂
Q: What is your balancing secret in managing a blog and a family?
A: Don't put pressure on yourself to write posts.  If there's something to share, that's great.  If I don't have time for projects or blog posts because of family, that's just fine.  Family should come first.
Q: How did you decided to start your own Etsy shop?
A: My Etsy shop came about in a similar fashion as my blog.  I made art for our home, then made art for friends and family.  Soon, I had requests for complete strangers.  Etsy is a super user friendly site and makes buying handmade items accessible to all.
Q: What's your proudest blogging achievement?
A: I'd have to say my proudest blogging achievement is having our bathroom remodel featured in Better Homes and Garden's special interest Kitchens and Baths magazine.  Just a quick side by side and interview, but still so cool and unreal to see.
Q: What are your must-read design blogs?
A: Hmm, that's a tough one because there are so many greats!  The Hunter Interior, Sarah M. Dorsey Designs, A Home Full of Color, Yellow Brick Home, House Tweaking…  Shall I go on?
Q: What is your best quick/inexpensive fix idea for someone to redo a room?
A: Paint!  Paint is certainly a cheap and quick way to completely change a room.  Whether light and bright or dark and moody, anything can happen with paint.  Don't forget spray paint, too.  It's a miracle worker.
Q: What is the best piece of design advice you have ever been given and would pass along to someone?
A: Choose timeless pieces for big ticket items.  Trends go, so who wants 70's orange laminate countertops for all eternity?  The more permanent the item is, the more timeless/neutral you should go.
Q: What are you looking forward to?
A: I'm excited for the holidays.  Such a magical time of year filled with family, friends, food, and fun.  🙂
Thank you Amanda and Ben, you are awesome!
Here are a few of the projects that we absolutely love: