Revamping a mid-twentieth century ranch home, designers Bruns Architecture invigorate this remarkable house with fresh ideas and generous interventions. Adding an 840 square foot extension and puncturing existing volumes -suffering from constrained light and proportions – the architects open up, update and modernize this 1,685 square foot ranch house in Madison, Wisconsin. A synergy of outgoing personalities and intimate spaces, the Midvale Courtyard House ignites with possibilities through a revised layout and functional program.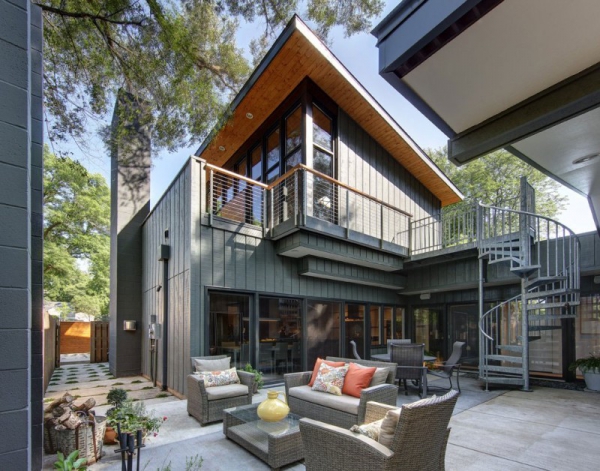 The design opens up the interiors to weave new movements through them, choreographed by a series of pathways and site walls. Open courtyards, terraces and spill-over spaces help the interiors to fluidly flow and interconnect with the site, breaking free of previous constraints. These outdoor rooms explode the consolidated ranch into a sequence of private wings that are a lot more dedicated and individuated in their function and aesthetics.
The newly built extension articulates a new entry to this remarkable house, as well as introducing a new courtyard, vertical connections and an integrated motor court. The new finds expression in the old wing, where its geometry is extruded to reorganize various spaces.
The exterior has been modernized to give this remarkable house its place in the twenty-first century, clad in smart grey stone and wood accents. The interiors are in striking contrast, washed in a light, airy palette that enhances the volumes and spaciousness. Distinctly contemporary in design, these spaces embody a delicately textured clarity that seamlessly blends in many original mid-century elements.