The bedroom is perhaps one of the most important, yet under-looked rooms in the house. But, it shouldn't be – on average, you probably spend more time in the bedroom than you do in any other room in the house. Therefore, this particular room should be the most inviting, warmly-designed space. It should be a safe place, a haven, a room conducive to sleep and relaxation. And in these ideal bedroom design images, there's a little something for everyone to consider.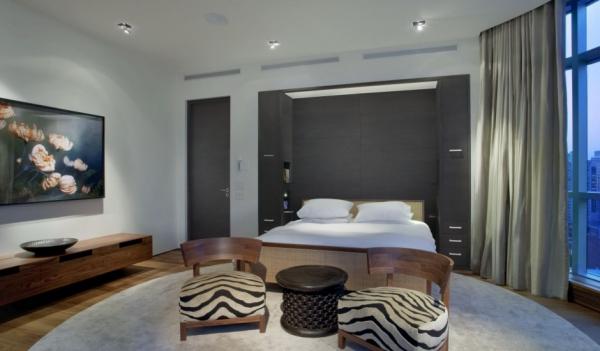 Bedroom decorating ideas range from simple and classic, to modern, to cozy and feminine, to wood-based and masculine. Dark wood paneling coupled with snow-white bedspreads and linens, an all-white look, a desert-esque theme with wood rafters, lively and colorful bedspreads in the midst of starkness, and a truly unique nature theme complete with a rock wall and tree stump-like chair – all of these represent the latest and greatest bedroom designs. And no matter the design, the lesson that can be garnered from these images is that, no matter what, the "flow" of the room is what's important. All objects and aspects of design have to be complementary in style in order for the overall ambience to function properly.
While these spaces are all different from one another, they all share one common aesthetic: less is more. This means that no room feels too cluttered with junky knick-knacks or too much art or wall hangings. These spaces simply aren't overwhelmed with messy paraphernalia, instead choosing to operate under the design idea that a little bit of décor can absolutely go a long way. And when your outside view is a spectacular one (such as snow-covered mountains, an endless ocean, a serene wooden landscape) then that's really all the decoration you need, as evidenced by these downright lovely bedrooms.