Japanese traditions and forms find home in Middle Europe, adapting and evolving to integrate with the vernacular, the Hat Tea House is the third in a series designed by A1 Architects. The smallest of the three, this 35 square foot tea house is located in charming private garden in Ostrava, Czech Republic. Completed in 2010, the design creates a pause within the outdoor landscape, offering a space for reflection, poise and dialogue.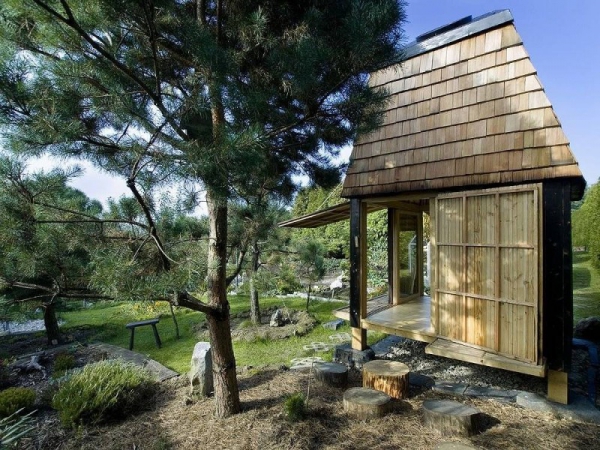 The search for intimacy outdoors led the designers to adopt a time-rendered palette, turning to the inherent characteristics of the materials to deliver on aesthetic demands. Warm oak sets the interiors alive, while dark larch facing and shingle roofing defines the tea house within its context. The entire structure is elevated on a dark stone base and capped with a tall roof to give it greater presence within the surrounding organic intricacy.
Inside, the oak plywood cladding harmonizes beautifully with a singular larch bench that orients the host and visitors to the spectacle outdoors. Sliding windows and shutters offer generous views that can be adjusted as desired. The bench also conceals the requisite storage, keeping the interiors uninterrupted and functional. The symphonic roof structure above is punctuated by a central oculus, creating an intriguing volume and light shaft that adds to the ambiance and experience. The Hat Tea House comfortably seats three, including host.