There is something so eye catching about an all white interior. That is why we were immediately drawn to the white interior design of the home of the interior stylist Mary, also a blogger from Mary Made This.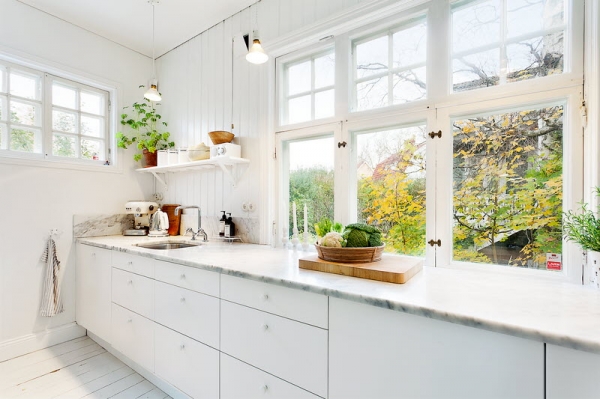 From first look on the outside you would not suspect what is to come inside. The outside of the home is a charming traditional mountain retreat. But when you step inside, the walls, ceiling and floor are all painted a crisp white. The furnishings and accessories are a mix of traditional and modern and bounce off the bright background. We love how the forest outside almost becomes the artwork as it peeks through the windows and plays against the white walls. Having such "natural artwork" is nice because it will change with the season, giving the home different looks throughout the year.
The big corner sofa situated in the living area offers a place for chilling. Exactly the place where you would like to sit and relax after a busy day. The kitchen, thought painted bright white, feels warm and inviting. The bedrooms are cozy and comfortable. The master feels like a modern shabby chic and the young child's room is pleasant and playful.
Lighting is also a key feature in the house design. From the lighting running down the walls in the living room, the modern pendant lights in the kitchen, to the warm light of the wood fireplace. This combined with the natural light streaming through the windows creates a bright and airy feeling throughout the house.
Would you live in an all white home?