A creative renovation of an existing detached house in Rotterdam, Netherlands this unique architectural design integrates disjunct volumes, sporadic extensions and individual functions into a consolidated and coherent experience. Upgrading the 4.300 square foot residence to anchor in contemporary demands and desires, local architects Eva Pfannes and Sylvain Hartenberg at Studio Ooze explore modern sensibilities and construction, overlaying the old with the new.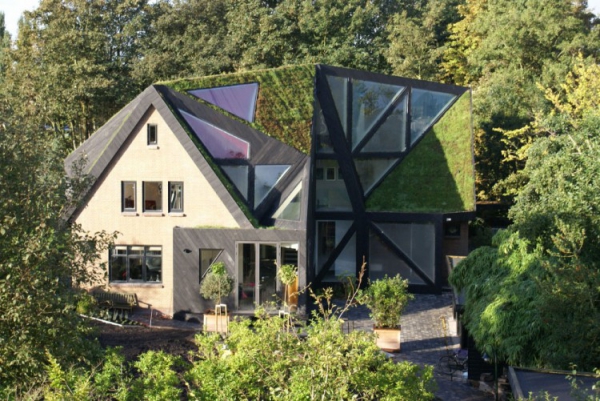 This unique architectural design arrives at complex geometries and intricate spatial experiences through the simplest and lightest of strokes. Originating out of a limited design brief, the project evolved to maximize on footprint and volume within current by-laws and zoning plans. The exploded volume translates into a new skin for the building, uniting its incoherent parts into a singular, comprehensive whole. Crafted in prefabricated timber panels to meet schedule and aesthetic demands, it offers new and expanded interiors within a generous blueprint for modern living. The deft use of a singular material fluidly translates one surface or element into another, attributing an almost musical clarity to the scheme.
The exterior also draws on vernacular references utilizing standard black ACCOYA planks and sedum roofs characteristic of Dutch farmhouses. These planks offer a textured richness to the sharp geometries of its new form, their linearity translating into an array of details and elements in the spaces indoors. Allowing the inherent structural complexity to take center stage, this unique architectural design adopts a clean and minimalist approach that anchors the space in contemporary sensibilities.