A penchant for the vernacular is articulated into these warm and inviting homes that exist in harmony with nature. Afforded spectacular views and unlimited natural goodness, the Hudson Woods designed by Lang Architecture is a unique collection of 26 homes scheduled for completion in 2016. Located on a 131 acre site in the Hudson River Valley in Kerhonkson, New York, these sustainable dwellings give back to nature as much as they borrow from it.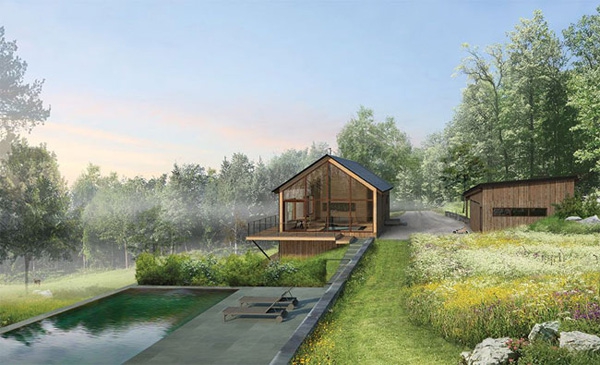 Nestled among picturesque forests and meadows, each of the sustainable dwellings individually responds to its site without disturbing the natural balance. The design adapts to the site topography, introducing features and spaces that accentuate its original beauty. Each of the dwellings is therefore individual in flavor and offering, inspite of shared sensibilities and palette.
The homes are drawn out in understated elegance with an abundance of locally sourced white oak. Open generous spaces are furnished with contemporary restraint and offer cozy sanctuaries amid the infinite forests, with custom mahogany windows framing delicate views. These sustainable dwellings offer a variety of features and fittings-from hand-cast bronze hardware to freestanding kitchen units- which have been realized by local craftsman. Outdoor facilities include various permutations of greenhouses, pools, tree-houses and outdoor cooking as well as a shared active forest management plan and on-site agriculture.
Architecture with a conscience, these sustainable dwellings offer a window into the future of housing possibilities. Designed in balance, they are a synergetic gesture into the very heart of nature.