Completed spring 2014, "Cadence" designed by Keith Baker Design Inc. is an award-winning, stunning house design that packages grand gestures in gentle strokes. Located on Vancouver Island in Canada, the property utilizes the landscapes and spectacular vistas of sunny Lantzville shoreline to the max through every space, feature and form.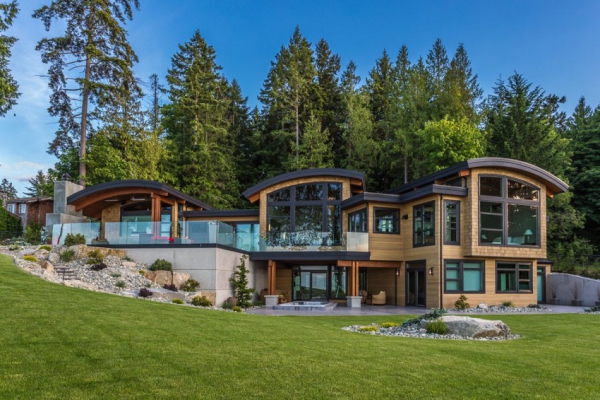 Unassuming and unpretentious, this residence anchors in the silent strength of simplicity. The stunning house design breaks the volume into a series of humanly scaled pavilions that slope down from the driveway towards the sea face, embedding the volume within the natural folds of the land. A covered walkway connects the pavilions, carefully synchronizing individual volumes into a coherent journey through time and space.
Douglas fir radius beams float above the different spaces, evocative of the ocean that lies before it. These are grounded by smooth concrete floors and surfaces that together with it, define the architectural experience within two fluid surfaces. The social core and living areas are located on the ground floor accessible right off the main entrance. The guest room too is located at this level, while private areas such as the master bedroom and gym are at the lower level. Each space is afforded generous spillover outdoors, creating signature experiences by weaving the man-made and natural into aesthetic elegance.
Bowing to the natural splendor, this stunning house design excels in its ability to create bold impressions through a series of sensitive responses. Beautiful and well thought-out, this design definitely gets our thumbs up!