There's nothing more calming than living a life by the water. Being able to wake up to the crashing tides rolling in and enjoying all the lushness of the surrounding trees and plants it nourishes will always make your experiences that much more enriching. Fresh air greets you with serenity without all the hectic things living in the city would provide you with. For today's feature, we travel to Tarawera, New Zealand to experience the tranquility of this lakeside house.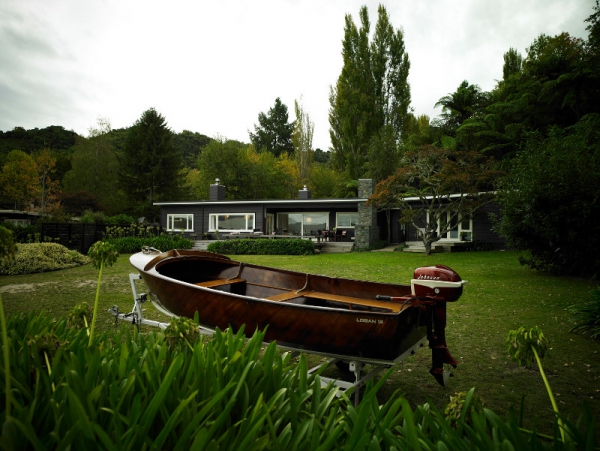 This lakeside house, designed by Mercer & Mercer Architects, is surrounded by a paradise of tall trees and other greenery. The ranch style of this home allows for everything to be on one level as to enjoy every angle of the environment it's in. The dark blue color of its siding helps it to stand out a bit so that it's not completely lost in the brush. While walking into the home, we can pass by the outdoor stone fireplace that compliments the deck. Inside, the decor is kept neutral with a little bit of texture here and there as a complimenting contrast to the dark brown colors.
In almost every room of this lakeside house, you are guaranteed a full-on view of the thriving life right outside. This is a great home for people who love to meditate and are true lovers of nature!