Architects Luis Barros and Graciana Oliveira created this modern single story house in Penafiel, Portugal to fit with and enhance the shape of the land it sits on. The house is light, bright and airy with many modern features. It has 3 bedrooms, a wonderful enclosed terrace outside that is ideal for entertaining and fantastic views from the southern side of the house and also is very private giving you the space you need to relax.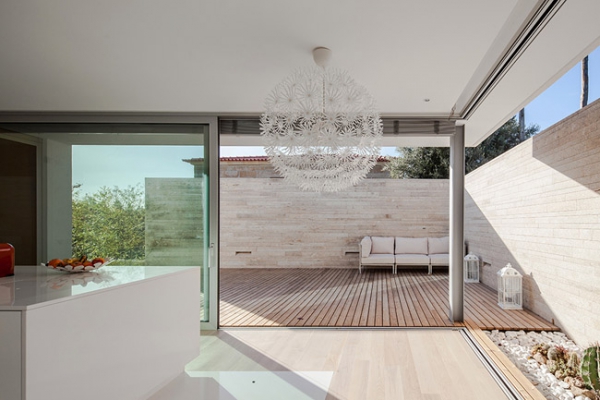 On the sloping site a L-shaped house has the best appearance and utilizes what nature has provided. Walking through this house you can see clearly that quality has not been overlooked and each room is a beautiful as the next. Large windows flood the single story house with natural light that bounces off the white painted walls and ceilings. The flooring is a mixture of light colored laminates and the whole theme of the house seems to be fairly neutral.
Storage space is well defined or hidden behind large sliding doors which also lead the way to other parts of the house. The house benefits from 2 comfortable living rooms, an ultra modern and well equipped kitchen, an excellent and modern bathroom and also very pretty bedrooms.