Built entirely of natural materials, this cozy interpretation of the archetypal log cabin brings a distinctly modernist touch to it. Architects Ryntovt Design create a 1,291 square foot single family residence in the Kharkov region of Ukraine, synergizing traditional familiarity with the pace and demands of modern living. A composition of subtle finishing touches and clean, soft lines, this natural family house offers a charming and inviting insight into the lives of its occupants.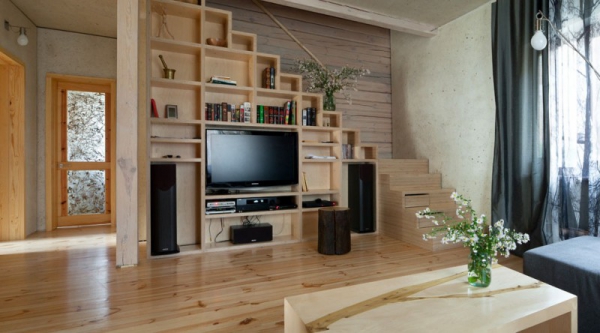 Articulated in an airy openness, the design relies on its organic undertones to lend the home warmth and character. The social core is located on the lower floor, anchored by a clay stove fireplace that translates rudimentary textures into a lovely modernist expression. Built of clay with natural additives such as hay and grass, this fireplace creates a functional partition between the kitchen-dining and living area, besides contributing to their aesthetics.
A crafty staircase incorporates the storage needs of this house into it; the element bends and folds to offer both concealed drawer storage as well as an open T.V. display unit. The more private areas i.e. master and children's bedrooms as well as a bathroom are located upstairs.
Easy on the eye, this natural family house radiates serenity and calm, letting both resident and visitor unwind in its timeless embrace.