Drawn out by the lush greenery and spectacular surroundings, the most private of dialogues is laid bare in this stunning vacation home in Koh Samui, Thailand. Perched atop a hill in the quieter part of the island, the Naked House weaves visuals and experience into its physical context. Driven and designed by its owner Marc Gerritsen – an architectural and interior photographer, this modernist retreat offers an opportunity to breathe easy and unwind among breathtaking views.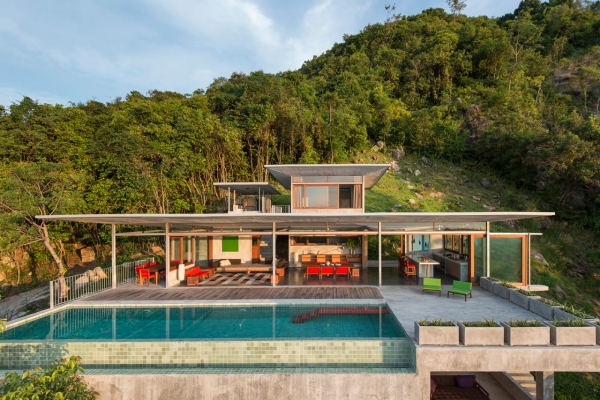 A light framed structure, the Naked House relies on the strength and smooth aesthetics of concrete to create an open dialogue between the indoors and outdoors. The pavilion-like spaces thus breathe free, washing its spanking interiors in natural light and beauty. The design is drawn out in a modern palette, relying on careful compositions to create its unique charm and character. Geometric overtones of furniture and furnishings anchor and order the space within the vast and fluid experience on offer.
The house was originally planned over three levels – two bedrooms on the lower level while an office sat majestically on the top floor; the office has since been converted into an en-suite master bedroom. On the main level sandwiched between them, the living area and ancillary facilities are located; this level houses a pool, living area, kitchen, pantry and laundry as well as an additional bathroom. The house is now spread over five levels with a steam room below the main deck and an office and maid's room built under the bedrooms.