Chalet Toit du Monde is a vacation home like no other; combining the solid intimacy of a seventeenth century monastery with the plush opulence of a ski haven, this stone chalet sets to impress with design, detail and delight. Pampered from your very first step onto the property, this remarkable project is one of two four-bedroom chalets carved out of the old monastery and is located near La Daille, Val d'Isere in the French Alps.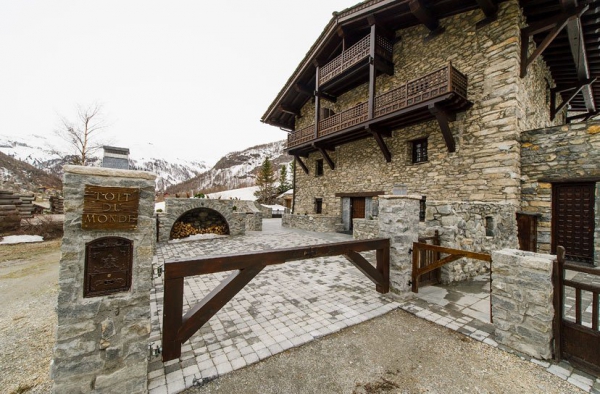 The design preserves the structural vocabulary, allowing the stone walls and timber framing to set a timeless palette. Arched boundary walls define this home among the endless snowy expanse. The woodwork keeps with this unpretentious yet organically intricate style, adding visual interest through harmonious patterns.
The interiors bring a dash of contemporary life into the stone chalet; modern technology and opulent finishes and furnishings create a space for luxury and indulgence. An indoor pool not only creates aesthetic delight, but also charms with its smart design – equipped with jet stream and corner Jacuzzi jets, it can be lowered to allow for swimming or kept shallow for a relaxing dip. There is also a massage room and a wine cellar for further relaxation-whichever way you prefer to go!
A gorgeous blending of original features with hallmarks of modern living, this stone chalet truly has it all. Solid, substantial and splendid, it is a perfect sanctuary for the holiday of a lifetime.