Opulence has a new address! A dapper and luxurious private residence grafted into a picturesque hillside, Oriole Way perches itself above the city of Hollywood, California. Impressive in every frame, architects McClean Design draw out spaces drenched in luxury minimalist design, creating unparalleled benchmarks in modern living and comfort. Luminous like the city it looks out over, this three level mansion dares you to think big and beyond.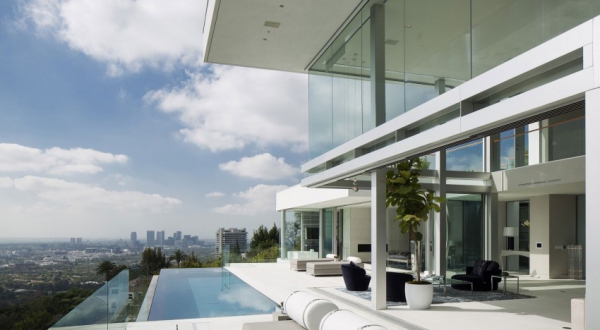 The architects navigate the steeply sloped site by separating the garage and parking area from the main house, articulating a spectacular entry courtyard that plays with light and water with stunning results. It also allows for the main entrance to be located straight off the sloping street, allowing pedestrians to step right into the main level. The social core-living, dining and kitchen – are located on this level with a spacious gym, wine room and home theater located on the lower level. The bedrooms occupy the first floor, with the master suite placed on higher grounds for maximum view and effect.
The design translates its vocabulary of luxury minimalist design into a series of crisply crafted interiors, rendered in black and white in an array of sinuous textures and glossy materials. This keeps things light and airy, turning to the panoramic views outdoors for intricate, organically layered backdrops.
This gorgeous home epitomizes the sleek, sensuous and sophisticated tones of luxury minimalist design, fully exploiting location, design and palette to strike gold.