Architect Nico van der Meulen creates a bold and striking expression of modern living and style in his designs for this private residence in Senderwood in Johannesburg, South Africa. Set to invite, impress and inspire, this sprawling contemporary mansion, set over 2,068 square meters, is crafted for both grand social reverie and quieter private moments under the same roof. Infact every space and aspect of this luxury glass house is exploded to accommodate the extravagant lifestyle and ambitions of its owners.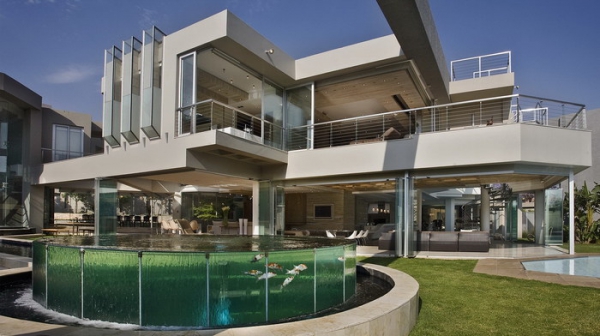 Both-the overall form and the spatial layout, are driven by the uninhibited strokes this luxury home is articulated in, with its structural design adapting to enable the same. Exterior beams, for instance, keep the interiors free of interruptions, making for some generous and outrageously impressive interiors. Extensive glazing further accentuates this freedom and flow, creating vast interfaces between the different spaces. Practically speaking, it is balanced out by the internal solar heated pond, indoor pool and heat storage tanks that keep the house warm and toasty on even the coldest of winter days.
This luxury glass house accommodates six suites, a massive social core with a formal lounge, open family room, a twenty seater dining area and a breakfast room, kitchen with pantry, walk-in coolers and staff cottage. It also offers an indoor/outdoor pool, splash pool for the children, gym, billiards room and a home cinema.