The silent and expansive landscapes of the Nahahum Canyon, north of Cashmere in Washington, are punctuated with an equally poised two-story hillside house. The 1,650 square feet Nahahum Canyon home, designed by Balance Associates, is crafted in the harmony and repose that its surroundings offer.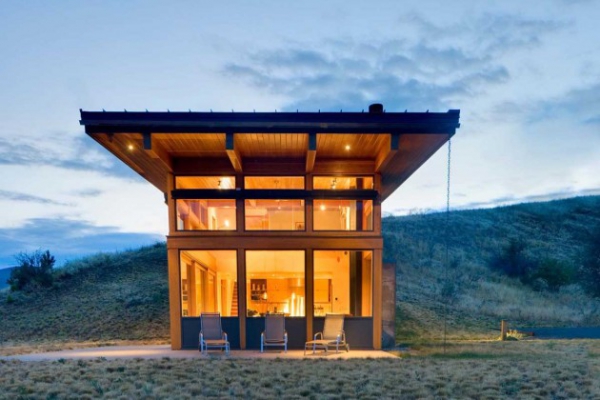 The residence is articulated as a consolidated and self-contained cuboidal volume that nestles into the hillside, anchored by concrete retaining walls. Afforded spectacular views over the canyon below it, the building offers a tightly knit haven and an aesthetic of restraint amid all the natural openness and abandon. The materials are simple and clean in flavor, set upon a cool concrete floor and dominated by the patterns, grain and movement of wood across it. The interiors swim in warm and muted colors, with the occasional splash of vibrancy to add a twist of play and create visual foci.
The lower floor contains a generously volumed double heighted living space that visually ties together both floors of this hillside house. There is an open planned kitchen and dining area on this level as well as a powder room and utility area built into the hillside. A master suite, guest bathroom-bedroom as well as a loft style flexible space is located on the upper floor.
Set forth for silent reflection and intimate communion, this charming hillside house is a sanctuary for mind, body and spirit.