We observe a trend towards more futuristic house design and advanced technological components lately. The property in the pictures is an example of just that. The name of the bold project is Dupli Casa and it's located in Ludwigsburg, Germany. The unique design, courtesy of J. Mayer H. Architects, takes architecture to a whole different level.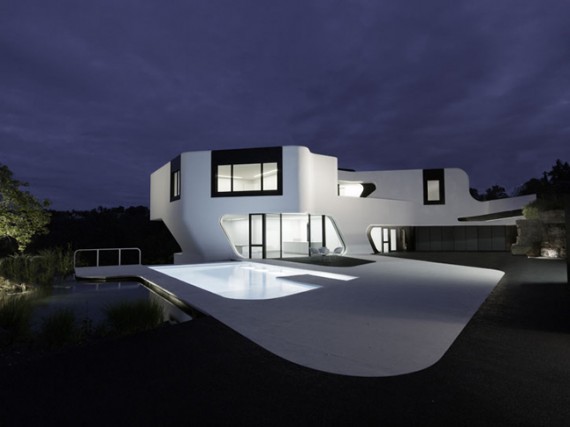 The white angular forms of this steel, wood and glass edifice captivate your attention. At first glimpse you can discern the radical assemblage of angles and surfaces that defy all rules of gravity to create an amazing architecture.  The revolutionary style of the house capitalizes on the space's abundant light, while the white-painted walls serve as a kind of opus for ideas. Pristine and concise the villa inspires you with its high tech and radical style. During the day the wood and steel-framed dark skylights cast arresting symmetrical shadows within and below. Lighting up the interiors with natural sunlight, they allow cross ventilation and create an eco-friendly interior. The floor is made of dark wood contrasting with the whiteness of the walls, yet creating a mesmerising equilibrium. The villa is sprinkled with progressive furniture. The generously glazed white dining table and the chair set look almost as they have been picked up from an Avant Garde collection and yet have a very homely feel. The black leather upholstered sofas and loungers are parked near the gigantic windows and guarantee you slip into a state of timelessness as you relax in the soft comfort and gaze upon the scenic view.
The interiors are austere and simple but reflect a regal elegance. This villa was created with a sophisticated vision of the future never forgetting the comforts of home. This house respects the ecological balance as well as homely comforts. Dupli Casa is an example of an amazing architecture with a futuristic design.