Architects Labvert introduce a molten volume of living spaces into the natural forested surrounds of south Vienna, Austria, blending the vertical with the horizontal to stir up its spatial experience. Fluid planes ebb and flow to articulate a melodic composition of volumes, creating fascinating visions of futuristic house architecture in this private three bedroom residence. Embodying a deft pliability, the House Birkensee offers a modernist interpretation of the organic and the unpredictable.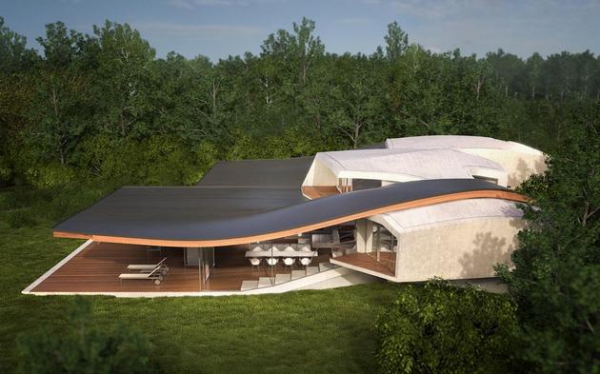 The form of this futuristic home design sits atop a gently floating wooden deck that emerges as the primary horizontal surface. The static stability it offers contrasts vividly with the twists and turns of the roof decking above it. The wooden ribbed under-surface of the roof accentuates its careful composition, buoyantly vibing off the pattern and rhythm of the wooden deck below. The two collaborate and collide to enclose a progression of spaces and volumes within them, articulated on the exteriors by a diaphanous membrane of glass walls. Concrete walls and elements form the core structure within these spaces, anchoring the dance of space, light and surface.
The décor of this futuristic house architecture is minimalist in flavor, washed in pleasant white, and offers a refined aesthetic that keeps the focus on the structural choreography. Enclosed voids and skylights punctuate the interiors with natural light and views, bringing an organic dynamic to its innermost depths.