This home is absolutely gorgeous with its beautiful use of wood and concrete, and colorful patterns.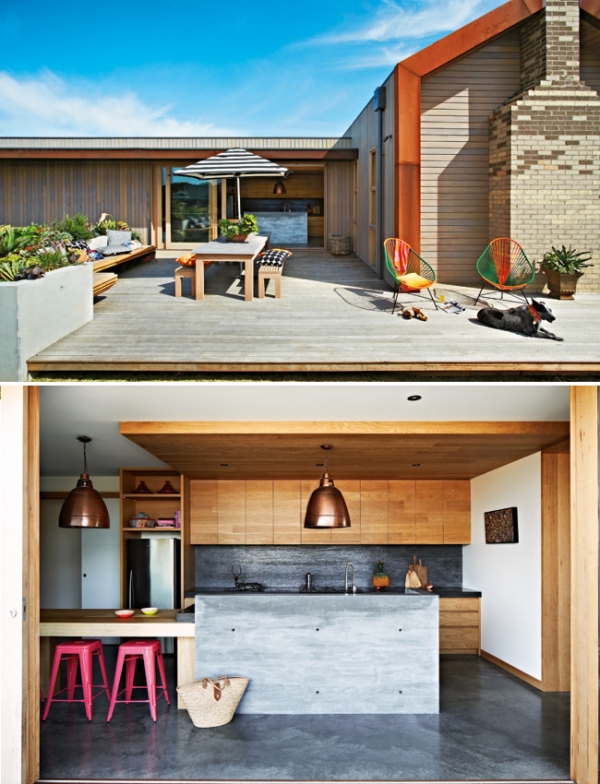 In the kitchen, stunning grays and cozy wood create the cozy backdrop. The cabinets are sleek and beautiful, and the continuation of the wood on the ceiling is a fantastically unique touch. Copper ceiling lights hang over the island and the bar area, bringing a little luminosity to the design. The hot pink stools are wonderful, adding color and even more interest to the room.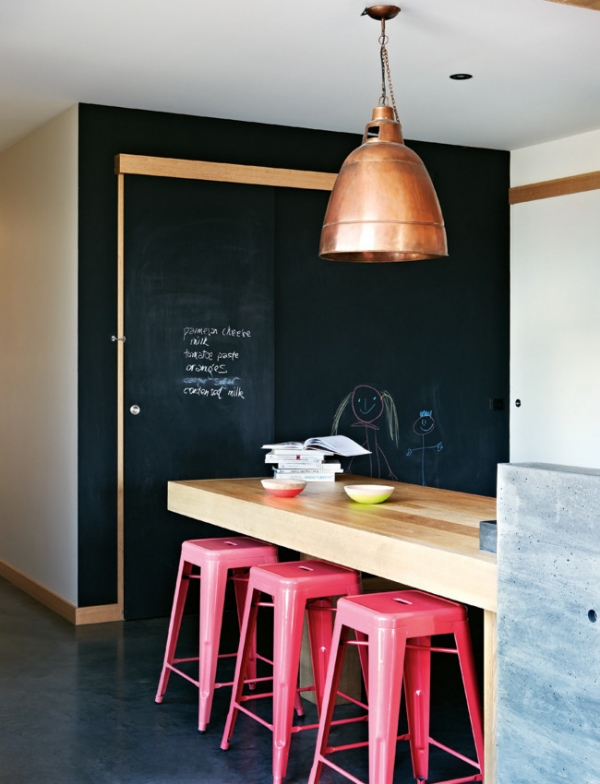 The master bedroom is sublime in this beautiful home. The platform bed is made of delightful wood, and it is framed by a stately concrete divider. Two brightly colored side tables, sit on each side of the bed, completing this lovely area. We are in love with the black lamps and the bold geometric pattern, they look amazing in the space.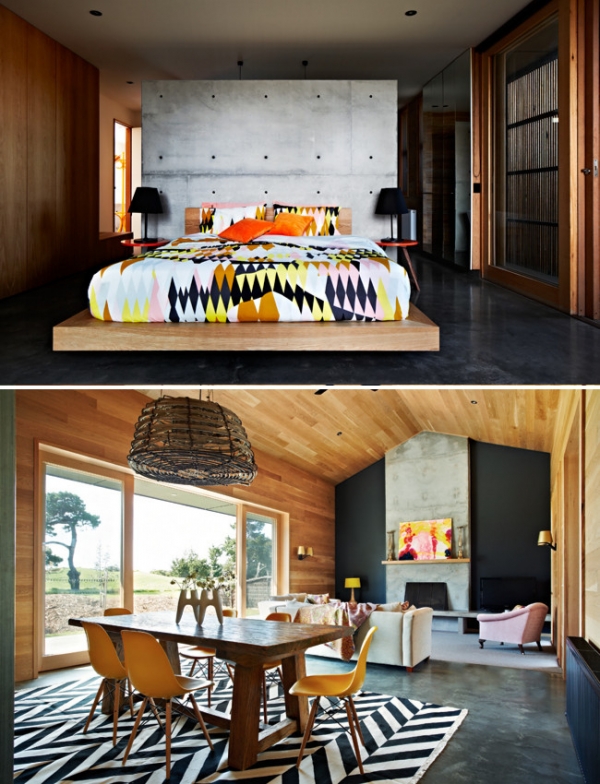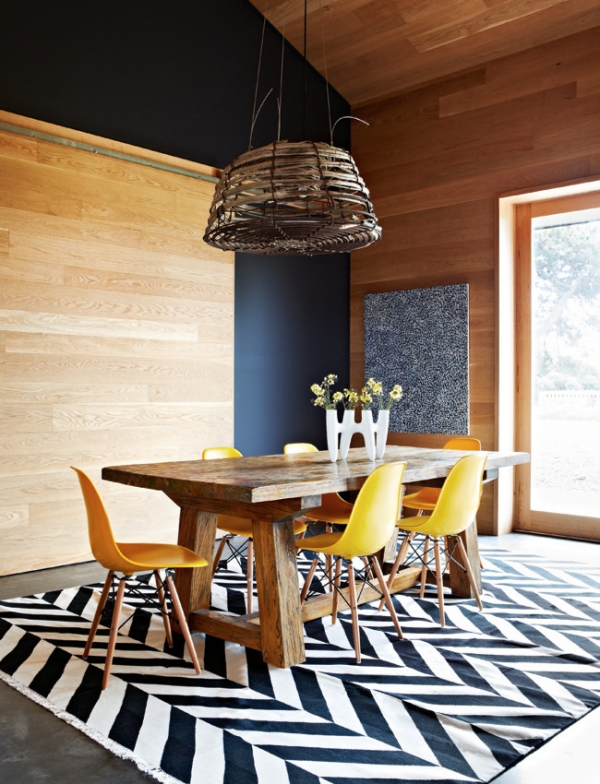 The open living and dining room continues the wonderful wood and concrete seen in the kitchen and bedroom. In the dining area a black and white patterned area rug lines the floor. On the rug, a rustic wooden table is encircled by modern yellow chairs. The fantastic artwork and striking ceiling light, brilliantly frame the space, adding the finishing touches to this refined design.
In the living area, a comfy sofa, with beautiful pillows and a charming throw, and a pink chair, create the seating space. The matte black wall and concrete fireplace look divine together, especially with the inclusion of the bright pink and yellow artwork.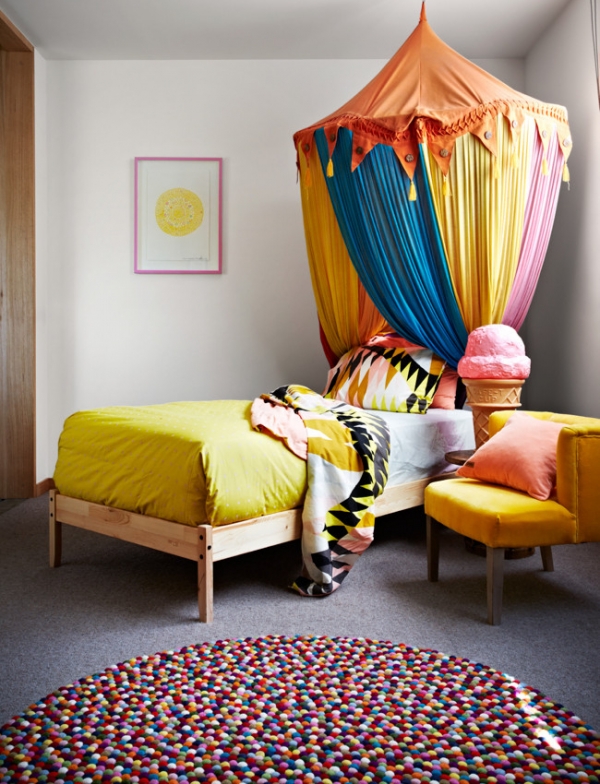 We adore the colorful patterns in the kids' room. The geometric patterns, the fabulous rug, and the superb canopy, come together to create a significant amount of playful interest. The ice cream cone is an adorable touch.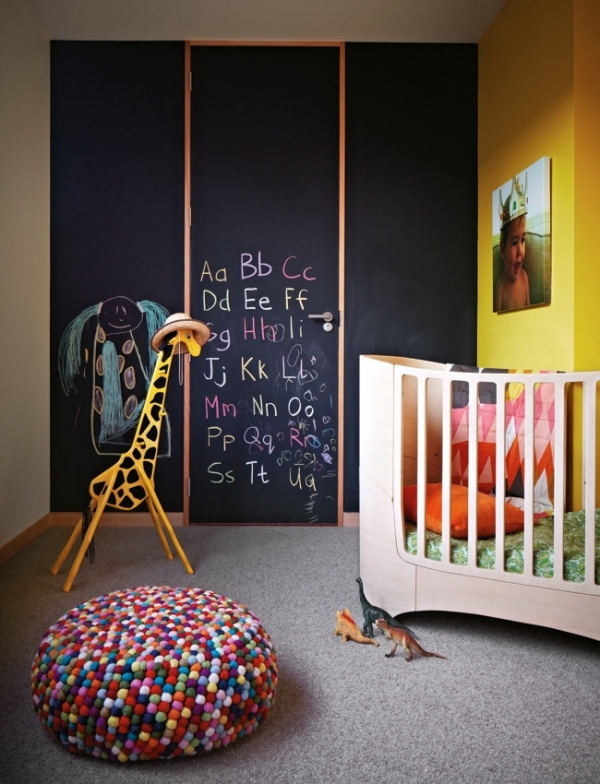 Images found on: Bare Room
The colorful patterns continue in the baby's room with the blanket, bed sheets, and the rug: simply beautiful.