Bare wood and stone clad walls come together in a neutral palette to add elegance and refined definition to a cozy family house. Evocative of the warm, inviting spaces of a Tuscan villa, this single family residence, designed by Ryan Street & Associates, is located in the Stratford Mountain neighborhood of Austin, Texas.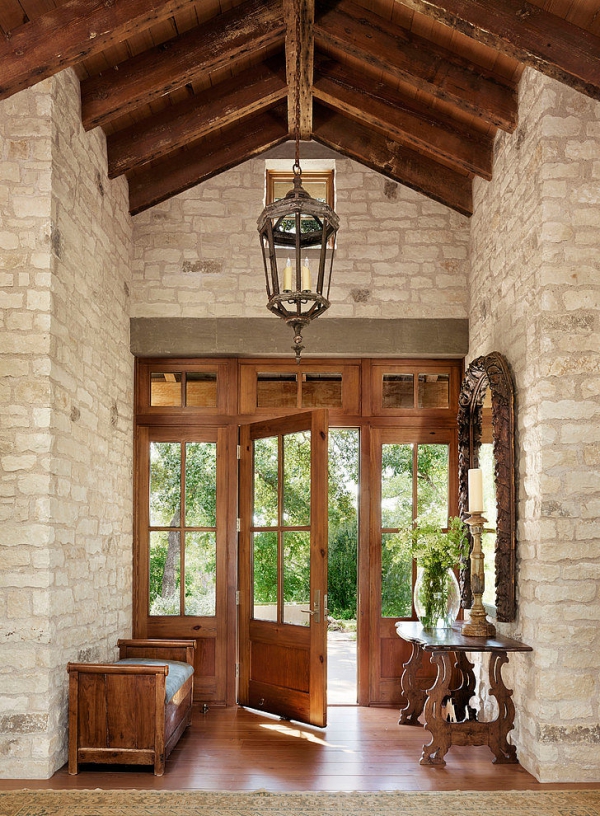 The design of this cozy family house is a subtle interplay of the embellished and unembellished against well lit, voluminous spaces. The naked grains and textures of wood run through the entire decor – from floor to roof, and in between- finding renewed expression in each room and area. This lends an unassuming air to even the cleanest, most sophisticated furnished spaces that breathe easy in this relaxed vibe.
With the furnishings rendered in a muted palette of white, beige and warm browns, the robust wooden roofing and beams step forth to define a space and its character through geometry, color and texture. The lightness of the decor below beautifully balances out their mass; the structure therefore seems to almost float rather than weigh down on the space below. Further large, generous openings – tweaked to each room and its style – smartly frame the outdoors to create green and dynamic backdrops to each area and function in this cozy family house.
The architects at Ryan Street & Associates triumph in creating a stunning, warm home that invites with its laid-back, sunny disposition and impresses with its charm and grace.