For centuries, the art of origami has been a prominent staple in Japanese culture since the invention of paper. The word 'origami' itself is Japanese for paper folding and is a craft that involves creating beautiful art in the forms of various shapes with intricate folding techniques. The masterpieces that were created as a result were used as gifts to loved ones, as well as for ceremonial and educational purposes. The art of origami spread throughout the western world and beyond which created other modern versions. Nevertheless, origami has preserved its distinctive style in its home country and has since evolved from delicate paper to beautifully built homes! Located in Mie, Japan is the Origami House, a large-scale version of the art form that people have passed down throughout history.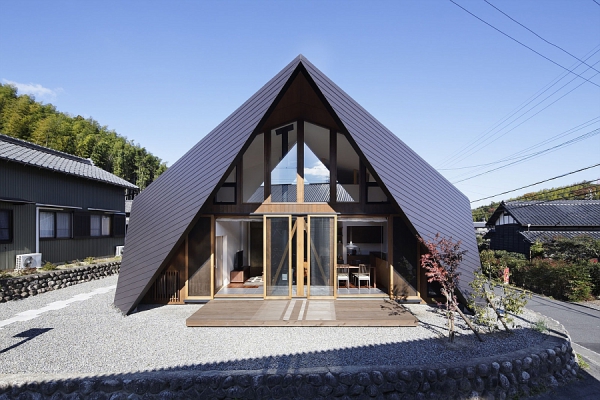 Thanks to Yoshiaki Tanaka from the TSC Architect company, we are able to witness this Origami House become a permanent ode to their culture through an innovative roof design. Not only does the roof represent an art form but it also has multi-purposes as well. Tanaka designed the roof to block blinding sunlight, absorb the impact of resilient winds, and even handle earthquakes! The inside of this Origami House keeps things simple with a minimalist style that incorporates wood, glass and stainless steel elements. Because the roof is able to block out blinding sunlight, it's able to also filter in comfortable rays that fill up this beautiful Japanese home with radiant energy.
The newlyweds who are the lucky owners of this amazing Origami House really have something great to cherish while they grow their family!