This wonderfully quaint and delightfully modern English cottage is the perfect place to make a get away to; whether it is for a prolonged vacation, a weekend away, or even just a romantic night with your loved one out of the house. Located in Charlestown, Cornwall, England, this Georgian villa offers the ideal place to relax and just take everything in. With the cottage being located next to the sea, you can imagine the wonderful mornings, afternoons, or nights spent sitting outside and breathing in that fresh sea air.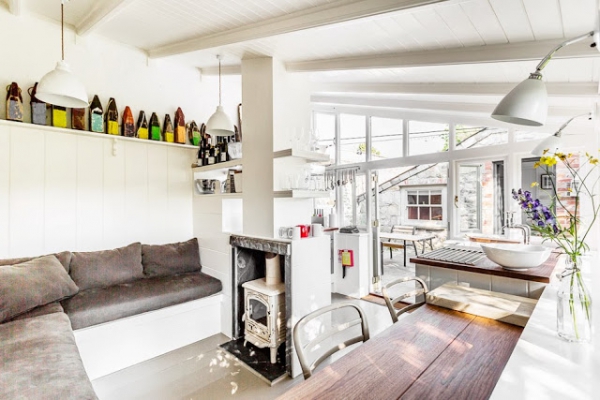 This English cottage was actually originally meant to be a place to 'babymoon'; basically, you take your baby with you on a vacation to this lovely cottage, and you both (and your spouse or partner) will be pampered by hosts and the comfort of the villa. How cool and cute is that? Not only has the cottage been renovated to have the most wonderful balance of classic English structure and modern interior design, but it was built with pampering babies and their mothers in mind.
Speaking of the design of this English cottage, we love the contemporary approach with the white on white look. This always looks so fresh, but in this particular instance they nailed it perfectly. It could be the fact that it is located next to the beach and is very airy and spacious in the cottage, but the white looks gorgeous throughout.
The décor is simple but flawlessly covers what needs to be; all pieces of furniture accent each room wholly and we just love the refurbished woods. The few pops of color here and there are rightfully placed, really bringing everything full circle.
As we had hinted at before, the outside of this English cottage is to die for. The covered patio area is so relaxing and comfy, and did we tell you about the sea? Oh, we did. Well, if you are thinking what we're thinking, that patio is going to be used a whole lot during your stay there.
Book this lovely home by visiting Kid and Coe vacation rentals.