Deeply passionate about art, the owners of this private residence decided to live in it! Abstract expressionist visions find a three dimensional canvas in the colorful geometrical interiors of this home located in Sofia, Bulgaria. Designers Brani & Desi use form, line and color to create an interesting aesthetic that disorients from the overall volume to focus your attention on individual cores and elements.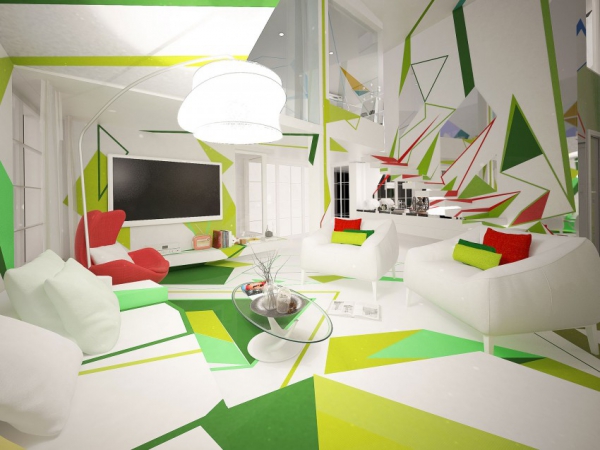 Artistic studies on an architectural canvas, the designers explore the effects of geometry and color and their ability to evoke an emotion. From warm comfort to calm serenity, these colorful geometrical interiors offer it all. Triangular motifs are deftly manipulated to create subtle variations in ambiance and the function it houses. In many ways it is all quite overwhelming, but like a bold modernist painting, the design is unapologetic, playful and delighting in its spatial vocabulary.
Floating in a sea of white, the geometries meld the two floors into a singular visual experience that refuses to conform to the traditions of organization or expectation. Mirrors, reflective glass panels and sharply profiled furnishings further add to the intricacy of the design; these accentuate the scheme with their form and vibrant colors adding further dimensions in space.
Reverberating with infinite enthusiasm, these colorful geometrical interiors offer a curated way of life – bold and uninhibited, this is a space for boundless creativity and unmatched individuality.