Amid the splendid landscapes of west Mexico City, López Duplan Arquitectos renovate a house built in the 1980s to create a contemporary statement of comfort and chic. Through carefully composed spaces, elegant decor schemes and pleasant lighting, designer Claudia López Duplan articulates an effortless flow of form and function in this beautiful modern house.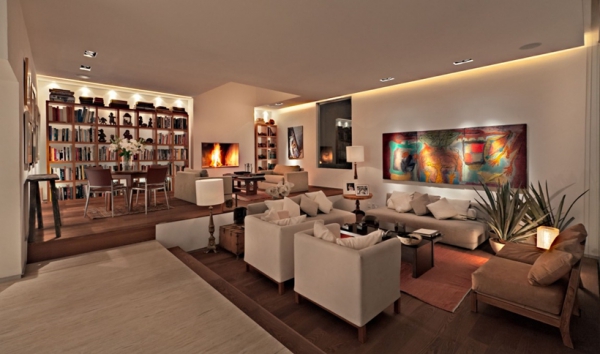 The social and living areas of the house are organized in an open plan layout that introduces subtle delineation of one space from another by slight variations in floor level. A few steps up and you not only enter a different functional core, but also an aesthetically defined experience.
The textures and materials of the furnishings are coordinated to tie up the various spaces of this beautiful modern house into a coherent design; these are largely neutral in tone with accents of color and individuality provided by the extensive artwork and intricate rugs. The social core spills across glazed openings into an outdoor sitting area that revels in natural beauty and vistas.
The bedrooms and private areas of the house are distinctly cozier and plusher in tone with the woodwork extending beyond the floor in the warmest of hues. Stretch windows offer panoramic views that bring dynamism to these spaces furnished with elegant restraint.
A winner in every aspect of its design, this beautiful modern house marries refined artistic sensibilities with graceful decor to invite, impress and inspire.