Every space narrates its own story – a tale of its creation, creator and inspirations – and we particularly love this narrative. Set in the picturesque and romantic city of Venice, Italy, these stunning residential interiors are set alight by the past and potential of its vernacular and artistic traditions. Claudia Pelizzari Interior Design Studio weaves a sinuous tapestry of space, graphic and visual impact, creating a habitat that oozes style, flavor and that something special that sets a masterpiece apart. In many ways thus La Casa del Tempo is much more than just an artistic house; it is an exploration of the overlaps between time, space, culture and individual expression.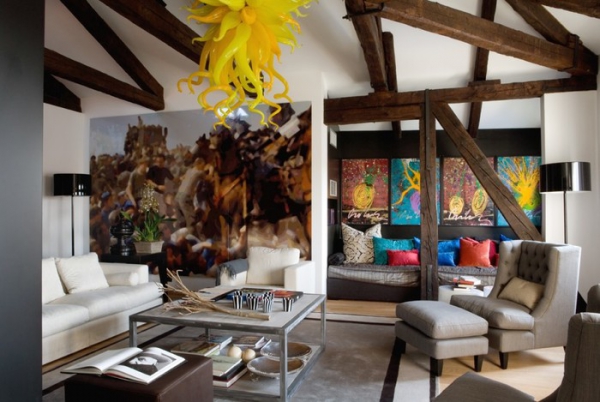 The owner's collection of contemporary Italian art takes this design to new levels, invigorating each space and wall it adorns and the functions they accommodate, with the vibrancy of its ideas, originality and colors. Allowing the artwork and installations to take center stage, the architectural design is elegantly restrained to a rather subdued palette. The subtlety of color, texture and profile not only accompanies the bold artwork perfectly, but also lends a rather relaxed and inviting aura to the space. Rendered in black and white, this entire scheme is grounded by the building's exposed wooden structure that emerges as a work of art in its own right.
Sinfully fashionable, this artistic house explodes with home interior design ideas and inspirations, as well as ingenious insight into the dialogues and definitions that make up an individual and the world he/she inhabits.