The Feldman Residence in Woody Creek, Colorado evolves out of the demands and constraints presented by its site. Rebuilt on the site of a 1960s home on the Roaring Fork banks, this amazing riverside house springs from an adherence to existing foundations necessitated by local building codes. Transforming challenge into a blueprint of creativity, David Johnston Architects carve out a triumph of modern space and architecture within a tight building envelope.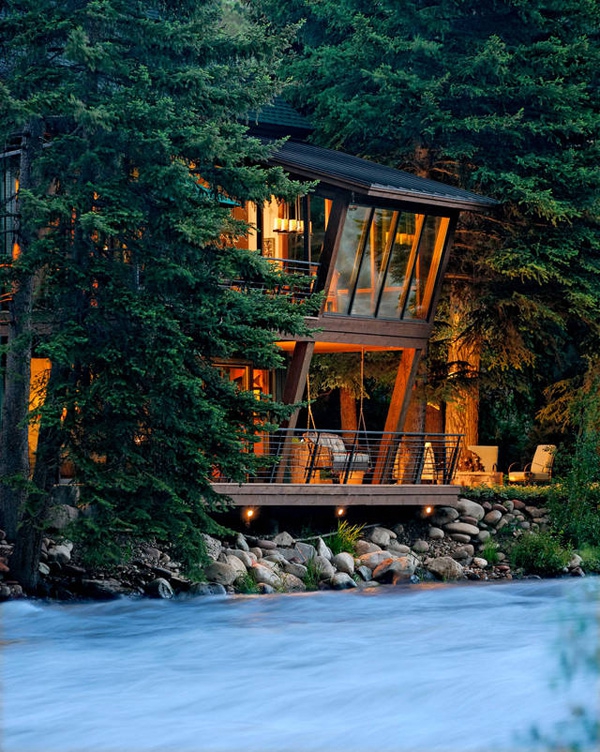 Swelling from the ground up, this amazing riverside house employs cantilevered massing and inclined walls and glazing to overcome the limitations of its footprint. This not only creates a spacious interior, but also induces a floating architectural vocabulary with seamless experiences of the gushing river on every level.
The entrance is via a suspended bridge-way that moves swiftly through treetops into the first floor of this three story amazing riverside house. The social and living spaces are organized on this level in an open-planned celebration of outdoor beauty and indoor warmth. The wood, glass and stone exteriors extend indoors to take on more intricate and detailed textures and patterns, drawing the visitor into a cozy embrace; multi-hued slate floors, Brazilian granite worktops and extensive sculptural accents contribute to the scheme.
The social spaces extend into more intimate experiences on the uppermost floor – this level houses a media room and family living space. The bedrooms and private spaces are located on the ground floor, spilling out onto a slate terrace with ample scope for relaxation and quiet solitude.