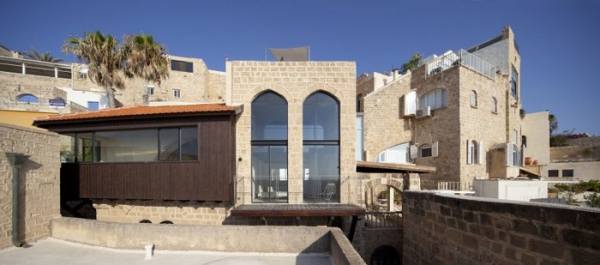 Ancient stone walls, over 300 years old, elegantly find their place in contemporary architecture and lifestyle through this splendid design from Pitsou Kedem Architects. Located in the historical port town of Jaffa- the oldest part of the Tel-Aviv Jaffa municipality- in Israel, the project captures the unique essence of the city, culture and its people- dwelling at the meeting point of histories, ideas, dreams and futures. Spread over two levels, this 180 square foot private residence bows to the past while making space for modern aesthetics and architectural sensibilities, responding to the client's desire to maximize on its sea-facing character without losing any of its historical charm. The result- an amazing house transformation that leaves you spellbound with the richness of its dialogue and the silence of its expressions.
With minimalist strokes, typical of the architect, the structure was gutted back to its original cobblestoned framework, creating a fluid and open volume with a distinctly cavernous ambience rooted in the ancient. This open-planned space is transformed into an open, breathing social core, flowing in and out of the sea before it, while being framed by stunning stone archways.
The stone walls give way to more modern projections, articulated against the solidity and gentle undulations of poured concrete walls and surfaces. These along with subtle introductions in steel and glass, respectfully weave a modernist aesthetic into the heritage of this site and city. Textural indulgences pervade through the design, keeping with the minimalist approach and further coalescing the chronologically distinct in this amazing house transformation.