Bold ideas and ambitious visions are translated into a stunning upgrade of a corner house in San Francisco, California. Designers Baran Studio Architecture exemplify the potency of modernist simplicity in this house renovation project. Translating a time-worn duplex into a chic architectural statement, they create a new visual and experiential anchor for the existing street scape.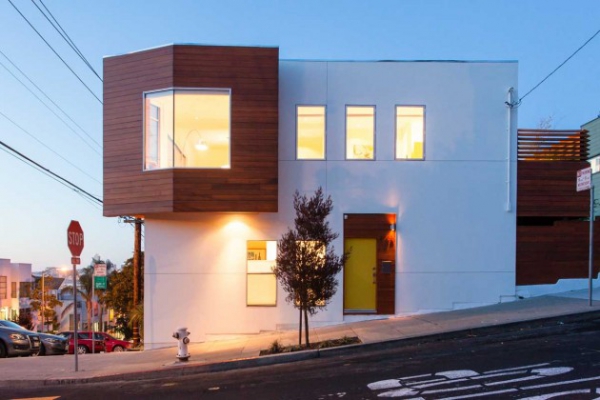 The design employs cleaner profiles and broader strokes to declutter the spatial vocabulary of the built form – inside and out. Larger openings not only flood the interiors with ample natural light, but also create a smoother interface between the urban fabric and residence without causing much fuss. This gives the house renovation a sharper definition that speaks loud and clear to the city at large.
A redwood wall weaves itself through the design, emerging as a bold architectural motif. Its movement through the site defines volumes, creates visual partitions and offers a backdrop to the lives of its occupants. The interiors are decked out in a contemporary palette that merges modern sensibilities with subtly layered textures, adding rich warmth to the decor. Furnished with restraint, the spaces are afforded charm and personal character through beautiful compositions of art and element.
Making the most of an otherwise rather constrained footprint, the designers liberate through forthright design and simplicity in this deftly executed house renovation.