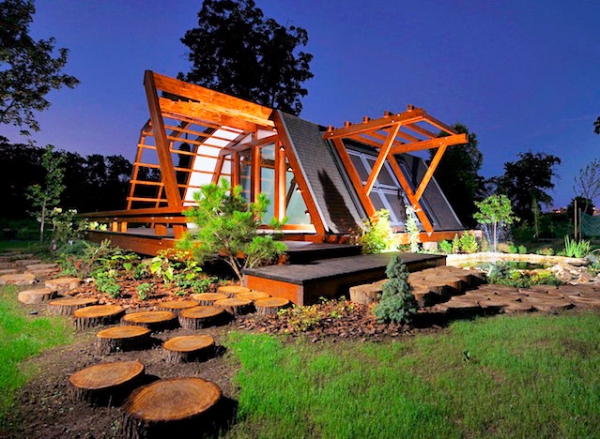 This beautiful eco home stands proudly on display outside of the United States of America's embassy building in Bucharest, Romania. Soleta ZeroEnergy One as it's known is the first of it's kind produced in this Eastern European country and was developed by the Justin Capra Foundation.
This small eco home has an abundance of extremely clever features and has the ability to be remotely controlled with the use of a smart phone. Soleta ZeroEnergy One has multiple uses so can perform well as a small home, office or workspace. Constructed from sustainable wood with large glass panelled walls the eco home is highly insulated and has an airy and light feel despite it's 48 square meters size.
The eco home is surely the start of more exciting products to come from the Balkan area and we absolutely love the design and all of it's features. Using a smart phone to remotely control the eco house can reduce energy consumption by a massive 45%. This beautiful small home is at the moment only a prototype but it paves the way for future zero energy eco homes in the future. This is an affordable and visually stunning eco building that will be in demand very soon.
Тext is copyright to ©Adorable Home – interior design and decorating ideas