This lovely Scandinavian house has bright white walls, hardwoods, tile floors, and wooden ceilings. The wooden ceilings add an interesting and charming aspect to this wonderful home.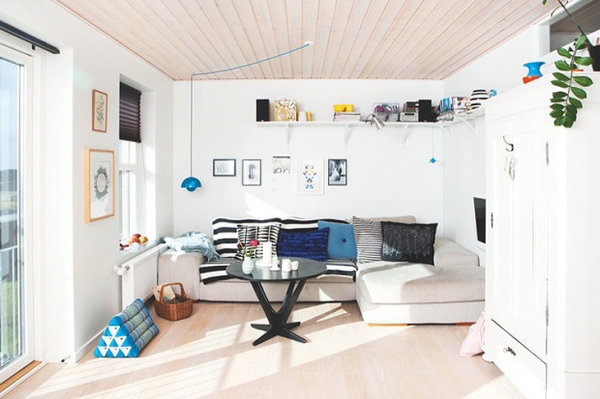 The living room has an L shaped sofa, tucked into a nook. The neutral colored sofa is decorated with lovely pillows, adding a burst of color to this cozy space. A black circular table sits in front of the sofa, and white shelving lines the top of the wall. Small and medium sized artwork adorns this adorable area, completing the design and the space. Lighting is provided by a nice-sized window, which seems to be perfectly made just for this nook, and a simple but gorgeous bright blue ceiling light.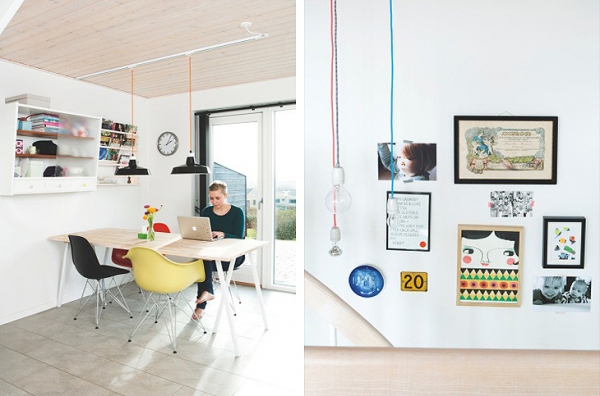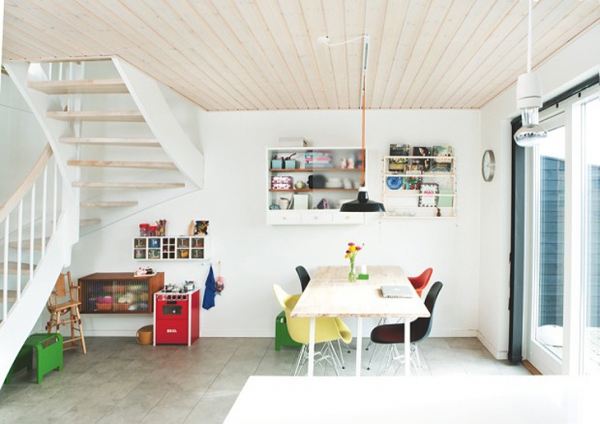 In the dining room of this Scandinavian house, a wooden table is flanked by modern chairs in different colors. Two fantastic ceiling lights, hang from bright orange rope, lighting the table. White shelving is placed on the wall, providing storage. The wooden ceilings continue in this room, even though the flooring has changed to tile, composing an interesting and alluring contrast. The tile does a fantastic job of designating this room as an eating area, and maintaining the openness of the space. Two patio doors provide a lot of natural sunlight, and easy outdoor access.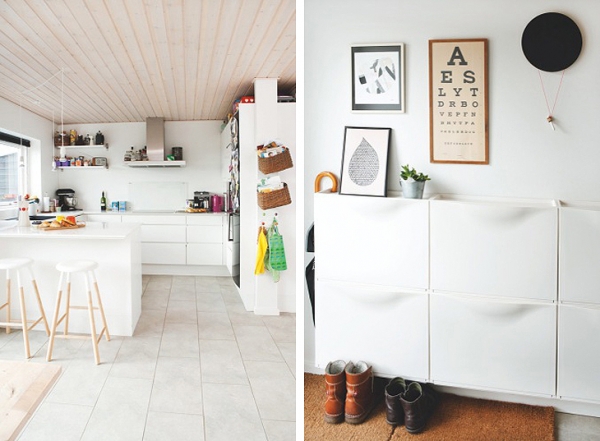 The kitchen in this Scandinavian house is modern and minimal. White clean-lined cabinetry and open shelving lines the walls. There is a sleek white island, complete with two gorgeously modern stools.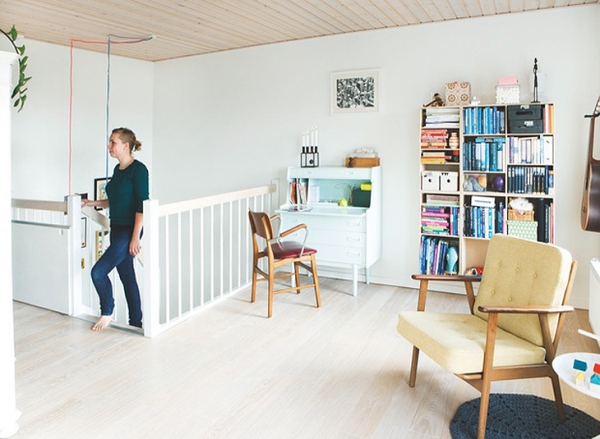 The wooden ceilings and bright atmosphere continue in the upstairs area of this Scandinavian house. Near the stairway, there is an exquisite white desk, and a generous amount of shelving. The modern Danish chairs and circular black knitted rug enhance the space beautifully.
This gorgeous home is made even more special by its wooden ceilings. It is charming, bright, and cozy: a fantastic combination.

Images found on: Designattractor