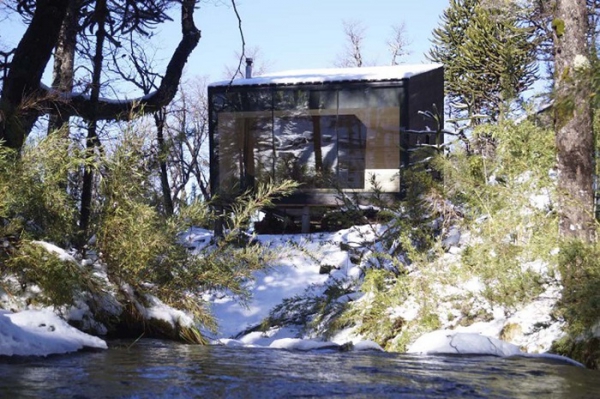 This small cabin does not look lime much from the outside but is the perfect winter retreat or place to spend time wildlife watching. The winter cabin was designed by company MC2 Arquitectors who created a minimal space that does not have a huge impact on the environment and also has more than one purpose. This pretty 48 square meters cabin can be found near Corralco, Chile in a forest of glorious oak and araucarias trees.
The inside of the cabin is one open plan room, fully fitted out with beached pine, from here you can look out through the full length window and spot wildlife at the waterfall nearby. The winter cabin is orientated north and offers an inviting way to study the local animals and flora all year round. The winter cabin is shaped like an inclined prism and has several small windows from which different views can be seen from, as well as the large main window.
You will find a small kitchen area, raised sleeping platform and log burner the main attractions of the inside of the winter cabin. And although it seems sparsely furnished one glimpse through the large window explains why. This cabin is a perfect getaway all year round.