The deciduous forest, that surrounds this striking residence, transcends from being mere backdrop to integrating with its core aesthetic experience. Every frame in this 4000 square ft. contemporary forest home in Mont-Saint Hilaire, Canada is enthused with the spirit and silence of the forest that surrounds it. Blouin Tardif Architecture-Environnement explore a bare palette of color, materials and design to sculpt a pause in an endless expanse.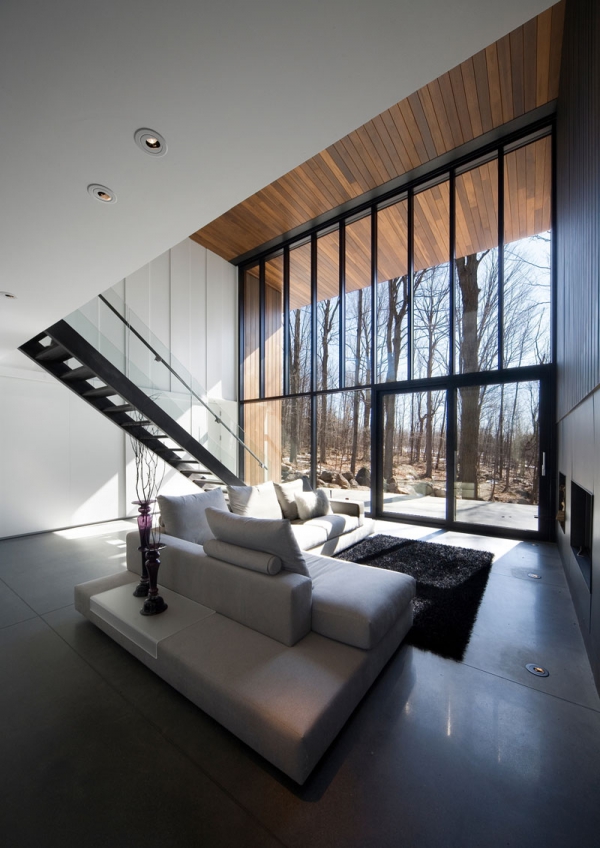 The design pivots around its engagement with its context. Broad openings that run from floor to ceiling offer exaggerated views and move beyond punctuating the external face, to forming a canvas for nature to paint upon. These broad canvases are carefully placed by the architects in each room and area of this contemporary forest home to create a beautiful tapestry of natural and man-made.
The building's east-west orientation allows for maximum solar gain, pouring in welcome sunshine. The decor is stark and bare- almost masculine, as if to reinforce its place among the splendour around it. Wooden ceilings, panels and striated walls extend the rhythm of the forest into the interiors. Floating above inconspicuous concrete floors, an overstated linearity- both vertical and horizontal- emerges as a common thread in the design. Upholstery is minimal and soft, making this an inviting space amid all the naked interplay.
The walls of this contemporary forest home have no need for embellishment or art; the changing faces of the woodlands create a marvelously fluid and sculptural experience. What results is a symphony shared in silence- between inside and outside, between nature and man.
Photography: Steve Montpetit