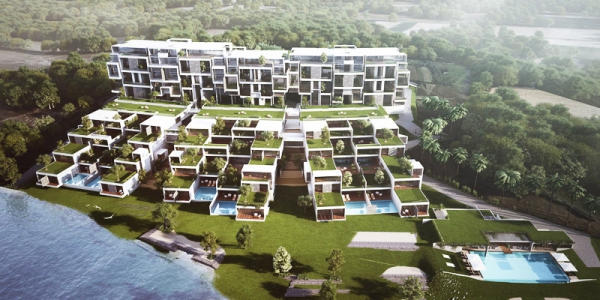 At first glance this may look like a typical villa development… look again. Homes that are actually apart of the earth they're built on; totally absorbed into the beautiful and serene nature that surrounds them. Nestled away in the hills of Mudikal, Aluva, stands these 55 villaments designed by Architype3d, each one unfolding itself into the next. The best part is that even with the very close quarters, each home still has its own yard (a pool in some cases!).
This is one of those designs you hope to start seeing more of; as we keep expanding these villas are exactly the kind of design that needs to be embraced. This is very sophisticated in its style, efficient in space, and it just looks totally cool. Who wouldn't want to live in a villament like one of these? Especially with that gorgeous river view! And imagine the block parties!
Once you step foot in one of these villas you can see that the sophistication carries itself indoors as well. Sleek hardwood floors, beautiful marble, abundant glass, and contemporary decor make up the interior. They still keep it on the simple side though, which bodes well with the natural surroundings of the villaments.