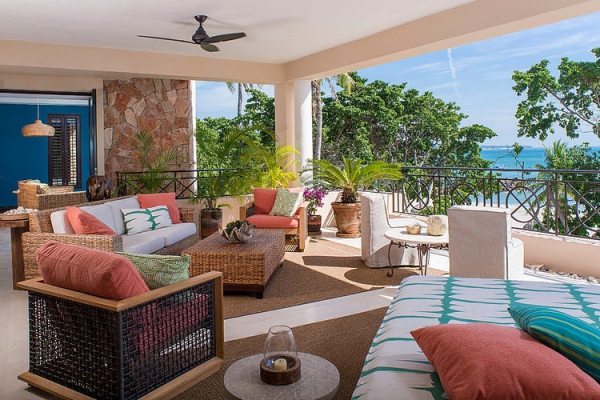 Viva la Mexico! Today we're taking you on a festive trip to a place everyone loves to vacation at. In Mexico, you can always count on breathtaking landscapes, vibrant blue waters and authentic culture. In today's feature, we are checking out a vacation residence in Punta Minta that incorporates all the liveliness and energy that represents the richness here.
Known as the Punta Minta Escape, this vacation residence was designed by Circa Interiors. This particular design company is comprised of two dear sisters, Traci and Tiffany from Oregon. They made sure that their design style always represents colorful and exciting interior designs that make your home fun to live in. With the backdrop of complete bliss they were given to work with, there's no wonder that this project flowed together in perfect harmony. The living room gives us its own hint of what awaits us outside with an ocean accented wall. Kept in monochromatic colors, this accent wall splashes onto the scene by inviting bold greens, purples and various textures to flow in whatever direction it sees fit. The kitchen area includes chestnut wood cabinet systems that offset the marble walls and counters. With a just a pop of color needed, you'll always be in the mood to cook something exotic and delicious! The bedroom and bathroom take it up a notch with bolder colors and intricate designs, while the balcony area outdoors formally introduces us to the paradise just beyond the cast iron railing.
A vacation residence that has the ability to refresh your mind every time you walk into a new room is definitely a residence worth planning to stay at!