In this article we explore a truly futuristic house design that represents a junction of technology and cool house ideas. Architect DI Johann Lettner is the creator of the amazing architecture of this 3-story modern house with a swimming pool. The layout of the fantastic house appears suspended in space. The entire décor is minimalist and super sleek, representative of an urban reconstruction.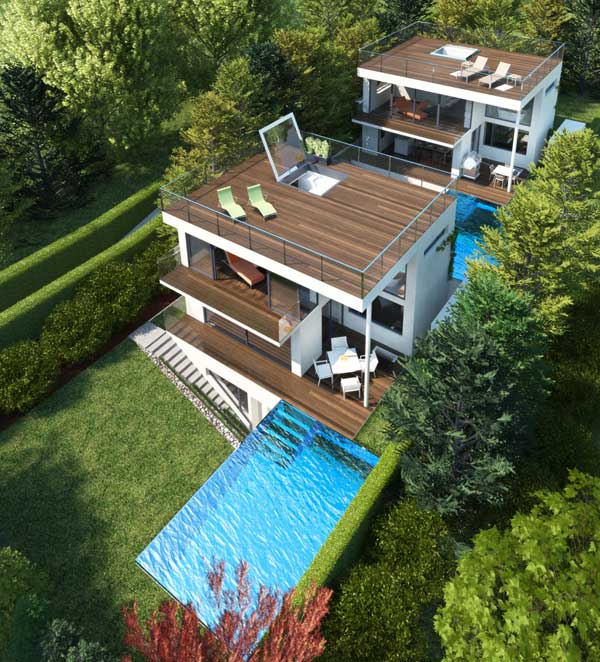 Upon entering this mega structure you notice the colors– subtle and balanced, merging into each other creating a soothing palette. This is accentuated because of the saturation of sunlight throughout. The designer has used the panoramic views of the surrounding to his advantage and built the house almost as a glass box. It has floor to ceiling glass windows with full access to the magnificent views and natural light. This beautiful use of contemporary design has given the house natural fluidity and movement.
Next and almost impossible to miss is the staircase. In this particular space, the staircase is much more than just a connector between spaces. The architect has given it a futuristic edge as it appears to pivot the home and magically hold the units. The lack of banisters on the stairs gives it an ethereal feeling as though you are vertically moving up in space. You are not simply climbing stairs – you are elevating.
Another unique aspect within this design is the layout of the bathroom. As with all other rooms in this house, the glass walls here too give you a blissful view of the city skyline. Lounging in your bathtub you can not only see the natural surroundings and the stars in the sky but also the starlight ceiling above. The amazing architecture has intertwined geometric symmetries with the central design so beautifully as though floating in space. The designer has impeccably incorporated the architecture with the interior.
Text is copyright to ©Adorable Home – interior design and decorating ideas