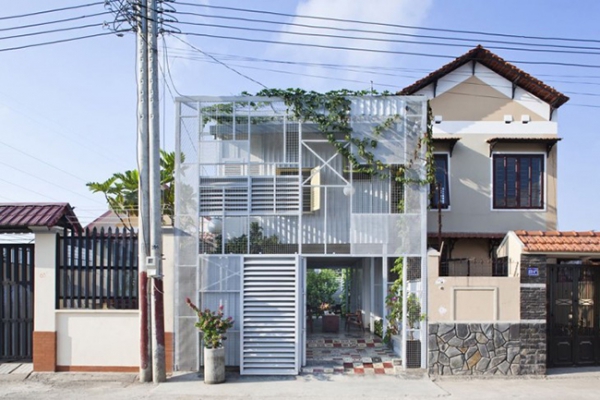 This unique and unusual home by A21 Studio in Thuan, Vietnam is almost entirely constructed from metal. The design is made  A metal frame and sides meant that building time was minimal and also the budget for the house was very low. The house is 40 square meters and has 2 bedrooms on the first floor. An open plan area is found on the ground floor where the kitchen and covered yard area are.
The whole house and yard is covered in fine netting, which will be used to grow plants. This provides an interesting feature and also is good for the environment. On the floor of the open plan area are a collection of multicolored tiles which bring life to the room and give it a homely feel. The kitchen is also covered with the same tiles and because it is one large room this makes it easier to entertain or spend time with family.
Upstairs you will see wooden floors, brightly painted doors and large window that have shutters to keep out the midday sun. This helps to keep the house cool and comfortable during the warmer months. This unusual home is modern, vibrant and fun with some useful features that help the occupants enjoy living there.
Тext is copyright to ©Adorable Home – interior design and decorating ideas