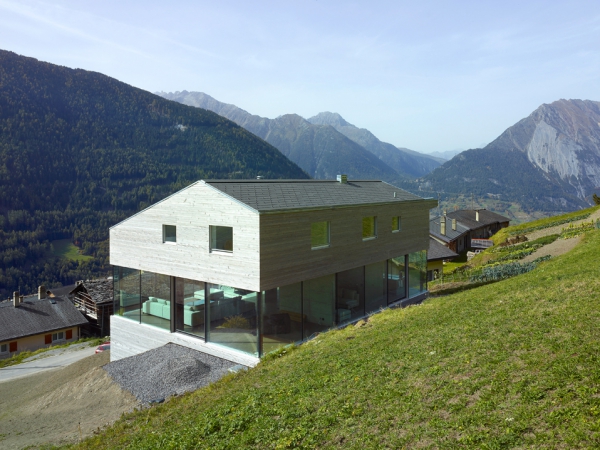 With outstanding 360 degrees views this unique country house is sure to be a wonderful place to relax and enjoy the beautiful scenery. The house is built into a slope and sits on the edge of a picturesque hamlet in an alpine area. The unique country house has 3 levels that each play their own part in how the occupants live, the first floor is where most of the day today activities are carried out – and this is the place with the best views. Floor to ceiling windows maximize the light and make that all important view easier to see.
On the ground floor there is a small self contained apartment, and on the 2nd floor you will find bedrooms – each part of the unique country house is connected via an internal staircase. Externally the wooden fascia will age over time to match other buildings in the vicinity. Polished stainless steel, concrete and cleverly placed mirrors can be found inside the unique country house. The mirrors are there to help reflect and spread light throughout the building, but they have also become a very nice feature.
The house is furnished in a minimalistic style and is comfortable, a light color scheme helps to retain an airy feel throughout. Thanks to the Savioz Fabrizzi Architectes this unique country house is designed to bring joy to the occupants and encourage them to appreciate the surrounding countryside.