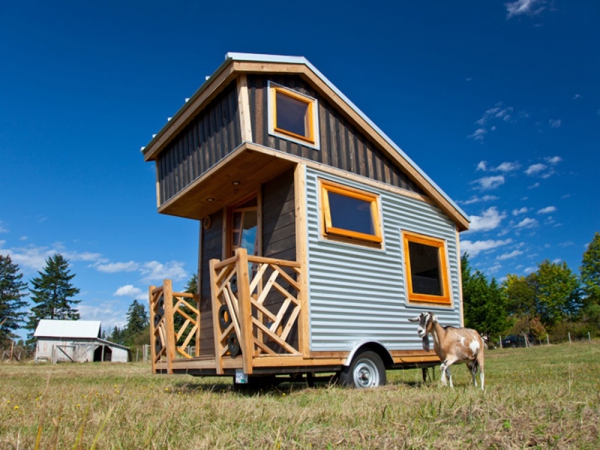 Take a look at this tiny cottage and you will be surprised at how well designed it is and how careful planning makes the use of the space available. The tiny cottage may look slightly strange from outside, but once you open the door you can see how much work has gone into this micro build. Designed and built by Gnomadic this tiny home is fitted out with many hand crafted pieces, making it one of a kind.
Living accommodation aboard the tiny cottage includes a sitting and dining area with fold out table and custom made bench seat. A radiant heated fiberstone floor that has its own programmable thermostat provides a cozy touch, and pine cabinets add extra storage options. There is also a generously sized loft bed. The tiny cottage is fitted with LED lighting, a 30 Amp hook-up including 15 Amp female adaptor, a cedar deck to watch the sunset and even a mini fridge. It is also fully insulated with thermopane casement windows. A custom water dispenser is attached to a beautiful etched copper faucet.
The tiny cottage is a tribute to quality workmanship throughout; and because it's on wheels it's a portable home that you can enjoy for years to come.