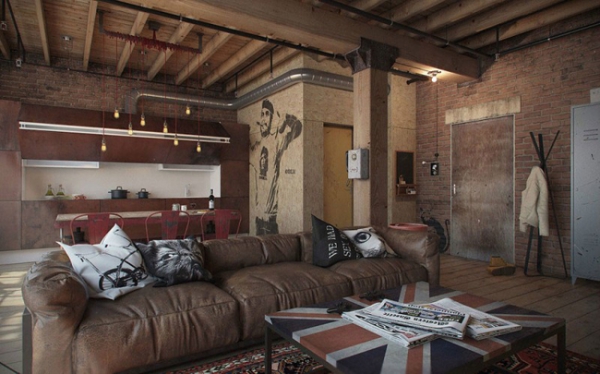 When we think of a single room home we often believe that this cannot be created with style and a panache for interior design and in the case of this 47 square meters home in Minsk we would be wrong. This single room home is simply amazing, and shows what can be done when we open our eyes to new possibilities. With an eclectic style that is tinged with some industrial features the small apartment is ideal for a person with a busy lifestyle.
This project was developed by the company Nordes and is a triumph of modern living. Many space saving features have been used such as the fold out sofa and kitchen that fits neatly against one wall. The kitchen can also be completely hidden from view by sliding doors when you have friends or family visiting. One corner of the room has been turned into a functional and industrial themed bathroom which is the only enclosed area.
Large windows allow natural light to flood the single room home, while wooden floors and brick walls add color and let the character of the building shine through. This single room home is stylish, minimalistic and warm plus full of fun objects for you to enjoy.
Тext is copyright to ©Adorable Home – interior design and decorating ideas