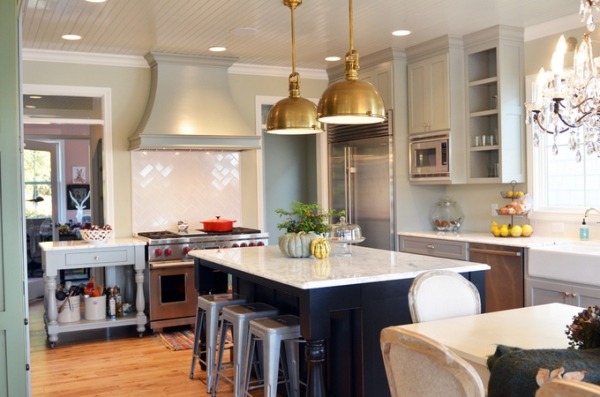 When your house is destroyed by fire it can be hard to pick up and the pieces and carry on but this restored home is testament to what can be created after such a loss. Home Edie has created a comfortable, pretty and relaxing home which makes us think of a phoenix, rising from the ashes.
The restored home has a lot of natural light, which highlights the pretty accessories that can be seen throughout. Neutral colors on the walls are offset by brightly patterned rugs and fabrics. A cozy living room is a mixture of contemporary style and chic furniture; here patterns and colors are added to update the room and add interesting focal points. In the bedrooms we see pretty pastels and feminine touches; family photographs add a personal touch.
The study has a magnificent cerise chair that sits beside shelves full of books; a bright yellow light fitting catches the eye and gives the room a quirky appeal. This restored home is a mixture of new and old, furniture from different periods and brightly colored items. Brought together they form a unique place that should be fun to live in and is a total joy to see.