This waterfront luxury beach house is called the Promenade Residence Project, and it is located in Queensland, Australia. Designed by BGD Architects, the flat-roofed, white modern beach house is a fabulous rectangular shape with plenty of outdoor living space. Patios and windows that seem to reach to the sky decorate the exterior of this home. A perfectly manicured lawn sits adjacent to the indoor/outdoor living area, while the bright blue pool spoons the side of the house.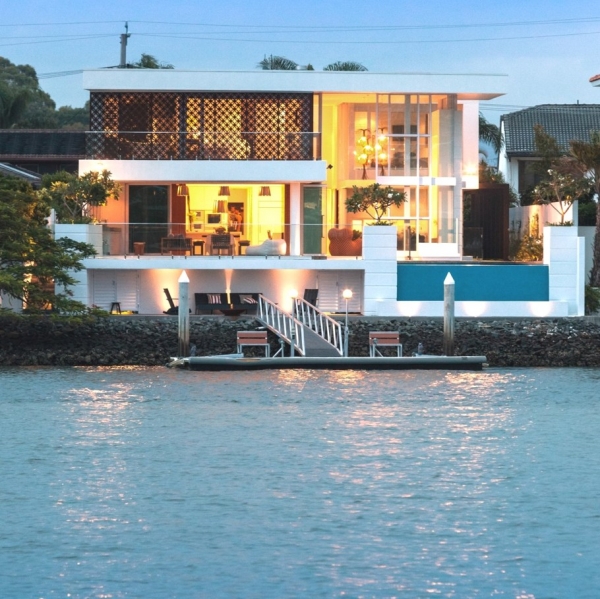 An amazing feature of this house is the use of windows, glass, steel, and louvered glazing. The windows and glass can be moved to provide ventilation and create an indoor/outdoor living space across floors. The openings don't stop at the first floor, they continue the length of the house, presenting a completely open space. The louvered glass and steel screens are used for privacy in the bedrooms and bathrooms. The screens are an intricate and beautiful design, and add a lovely uniqueness to the home.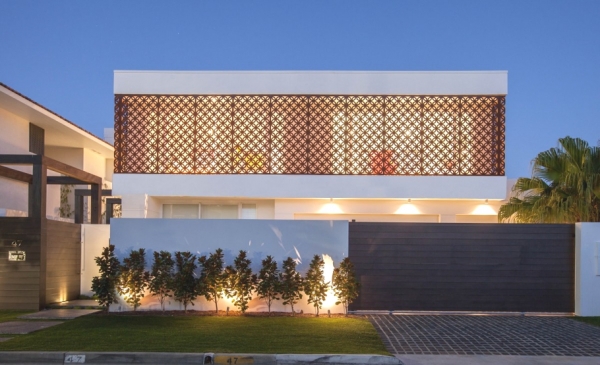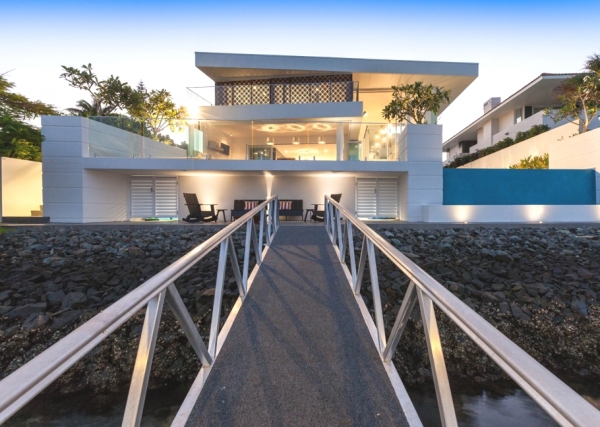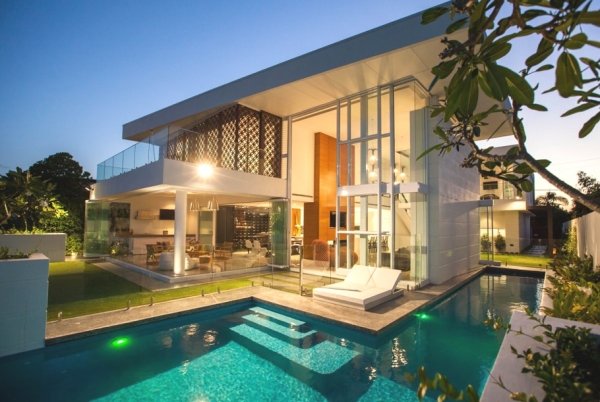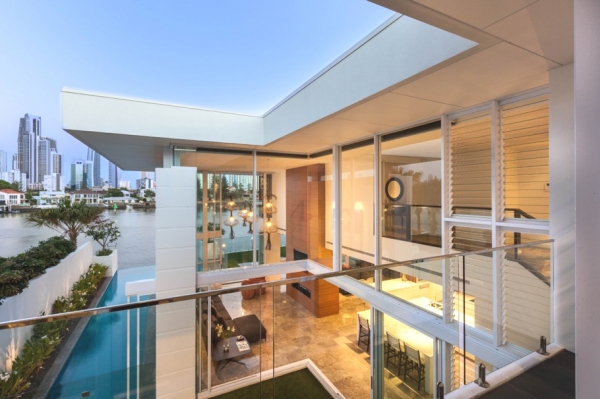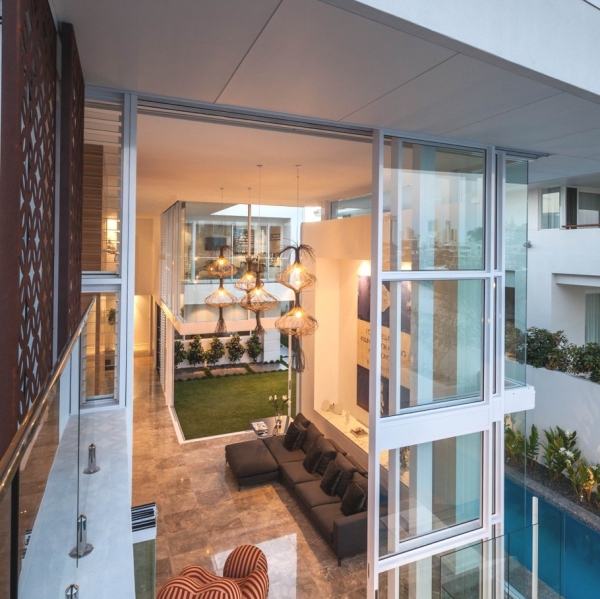 The interior of this luxury beach house is gorgeous and perfectly suited for a home on the water. Warm brown wood adds a little bit of heat to every room. In the living room, the sofas, chairs, and table, are a matching set of warm wood. Creme and neutral brown cushions add variety to the space, breaking up the caramel color. The kitchen, right next to it, is bright white, providing contrast. A spectacular wood fireplace is used as a divider between the kitchen and another seating area. The bathroom has a large white soak tub and beautiful white farmhouse sinks.
This modern beach house is one of a kind. The unbelievable two story openings, the creatively used and detailed steel, the walkway out to the water, and the fantastically designed pool, all make for an outstanding home. This design defines and creates a whole new understanding of the words, luxury beach house.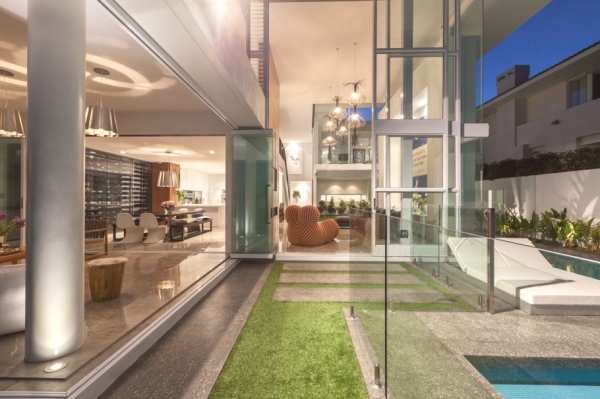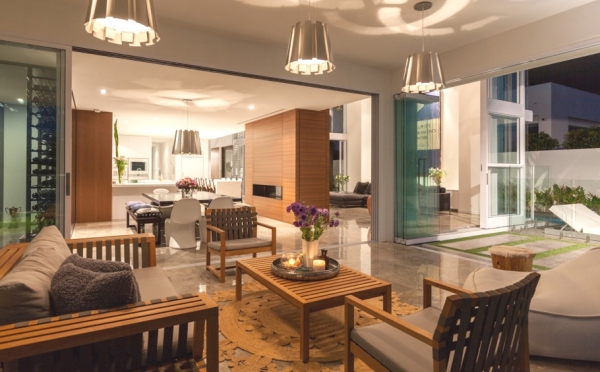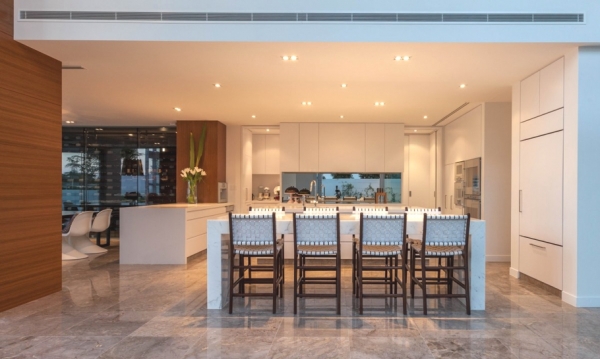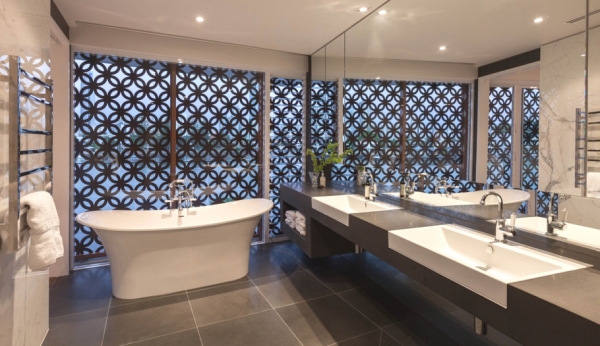 Photo © RixRyan Photography